Everything occurs in the kitchen: people eat and drink; they wash dishes; they chill; they build many memories. Do not think you have run out of ideas for small kitchens. The design of your place must allow all of these activities, but it does not rule out the possibility of it being visually appealing as well.
The following article can assist you if you are seeking for some small simple kitchen design ideas but are having difficulty finding them. Straightforward small simple kitchen design ideas for an average kitchen that is sleek and modern are included in this article, which also offers easy simple kitchen designs for small houses for families that are easy to implement.
Small Simple kitchen Design Layout
When thinking about how to create a small kitchen layout, it's advisable to compile a list of your 'must-haves', especially in terms of appliances, since they may gobble up a lot of storage space.
However, do get help from a competent kitchen designer. They are skilled in spatial design and the newest space-saving technology, also help you remodel a small kitchen, and can frequently advise methods to get more into kitchen layouts without overcrowding.
Simple kitchen layout
Keep the arrangement basic to make the small simple kitchen design look less crowded. An L-shaped plan is an ideal choice in basic kitchen design as it gives appropriate room for storage, accessibility and mobility inside the area.
When it comes to other possibilities for a simple small kitchen, simple design such as the galley layout, whereby two sets of countertops are positioned parallel to each other, or the linear kitchen, which has everything – the stove, sink and the refrigerator – organised along a single wall work well.
Small Simple Kitchen Design – Large Windows
Illumination is a vital aspect for small kitchens as it reduces shadows and darkness to make the area look bigger, this could be a great limited space mini kitchen design. If you have huge windows in the kitchen, make the most of the natural light that they bring into the room.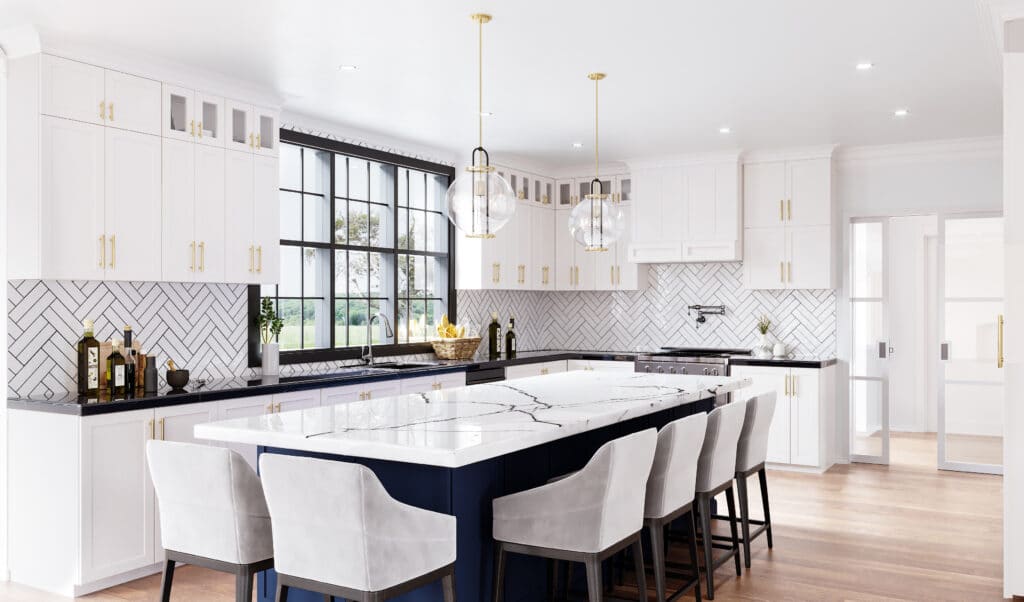 When constructing a new kitchen, aim to add wide windows or skylights to keep the room well-lit during the day and supplement with brilliant LED lighting for the night time.
Small Simple Kitchen Design – Efficient Workflow
The golden triangle is a common strategy used by kitchen designers and design professionals when designing a kitchen. It incorporates the positioning of the stove, sink and refrigerator in a triangle pattern to improve the efficiency of workflow in the kitchen. It may be included into any basic kitchen plan.
Small Simple Kitchen Designs
For small simple kitchen design 2022, there are a million ways you can utilise your kitchen and make it look nice, even if it's a small and simple kitchen.
Modern And Streamlined Cabinets 
If you absolutely must have cabinets, keep in mind that cabinet designs for tiny kitchens are one of the most important and defining features of a room of this size and shape. It is possible to give your kitchen cabinets a basic and contemporary design.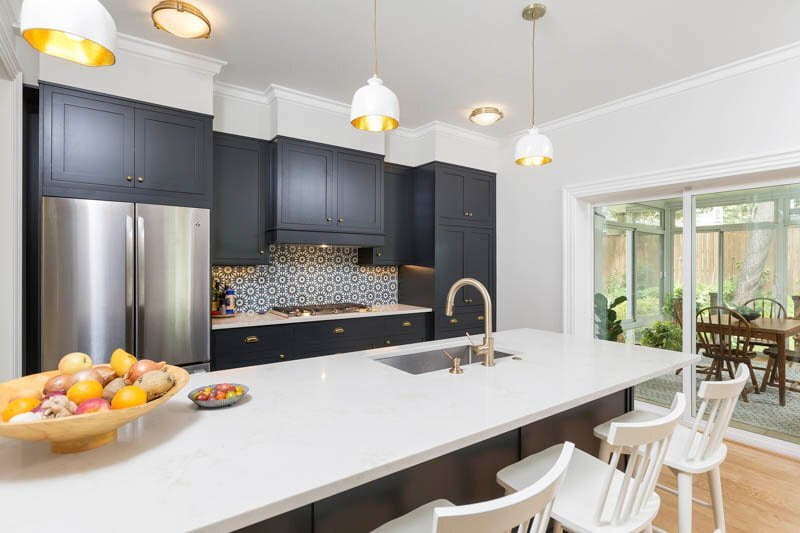 By replacing heavy handles and buttons with finger pulls, slender and sleek handles, small knobs, or magnetic strips. This will make the area seem bigger by making the room appear larger.
Extend The Height Of The Cabinets All The Way To The Ceiling
Make no use of the area above your cabinets – it's already tough to keep the dust under control there! Ask your contractor to install new cabinets in that location to accommodate more objects that will need to be stored above the cabinetry. This will pull your attention above, giving your otherwise little kitchen some much-needed height.
Make Extensive Use Of Open Shelves 
Open shelves are not only a low-cost kitchen design solution for small spaces, but they also provide the appearance of more space by opening up your walls and making your kitchen seem more airy. This can be a trendy small kitchen design 2022.
In contrast, closed-in wall cabinets may make your small kitchen seem claustrophobic and lacking in counter space and storage space.
Incorporate Materials That Are Bright And Reflective
Another small kitchen idea 2022, as you've probably observed thus far, the idea is to create the sense of space by using a variety of techniques. And what could be more effective than glass and mirrors? Large glass doors in the above photograph give the impression that the kitchen does not stop there.
You may also integrate glass into your hardwood cabinetry (as seen above) or use metallic treatments, such as those used in modern small easy simple kitchen design, to give your cabinets a more contemporary look. You may also use reflective tiles or glass to create a backsplash for your kitchen.
Storage Management for Small Simple Kitchen
There is never enough kitchen storage space for anyone. However, there are a lot of ideas for small kitchens.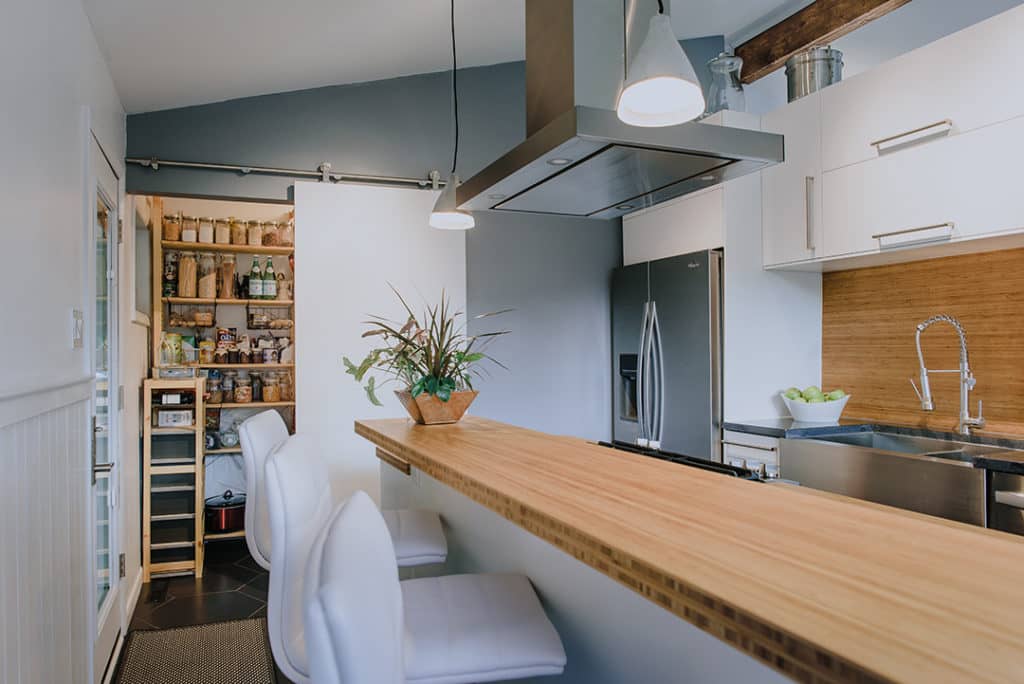 Therefore here are some tips for you to know the exact management of your small simple kitchen to help you out!
Make Use Of Hooks In Every Possible Location
Hooks have gotten the better of us! They may make your apron collection, or perhaps your whole collection of cutting boards, the centre of attention! As well as freeing up more space.
Keep Your Belongings Out In The Open
Is there no pantry? It's not an issue! Make a lovely dessert stand or lazy Susan out of your most often used ingredients and display them proudly!
As a result, you'll have more cabinet space and will be able to grab what you need more easily while you're working. You may also want to consider keeping your Dutch oven or other attractive cookware out on the burner while you're at it.
Make Effective Use Of Little Opportunities
An antique wooden box placed in the corner of the kitchen may be used to hold glass jars and potted plants. What's the point? Even the tiniest of areas may be transformed into useful storage.
Make Use Of The Space On Your Window Sills For Storage
If you're fortunate enough to have a window in your kitchen, consider how you may be able to use the sill as additional storage space. Perhaps you could arrange some plants on it?
Attach A Pegboard To The Wall
Your walls are capable of supporting much more weight than you realize. Cookware (pots, pans, and even canisters that may contain utensils) is one example. Instead of hanging a handful of more restrictive shelves, consider installing a pegboard, which provides very flexible storage space that can be altered over time as your requirements change.
Make Use Of The Surfaces On The Tops Of Your Cabinet
The tops of your cabinets are ideal for storing items since they are so large. Towards the top of the stairs, you may store serving dishes for special occasions and even additional pantry goods that you may not need right away. If you're concerned about how everything will appear, try utilizing some attractive baskets to conceal your supplies.
Take Into Consideration A Fold-Down Table
Do you believe you don't have enough space for a table? Reconsider your position! A fold-down table (attached to a wall, in front of a window, or suspended from a bookshelf) is nearly always effective. This way, you may utilize it when you need it and move it out of the way when you don't need it.
Purchase Some Adorable Foldable Chairs And Place Them On The Wall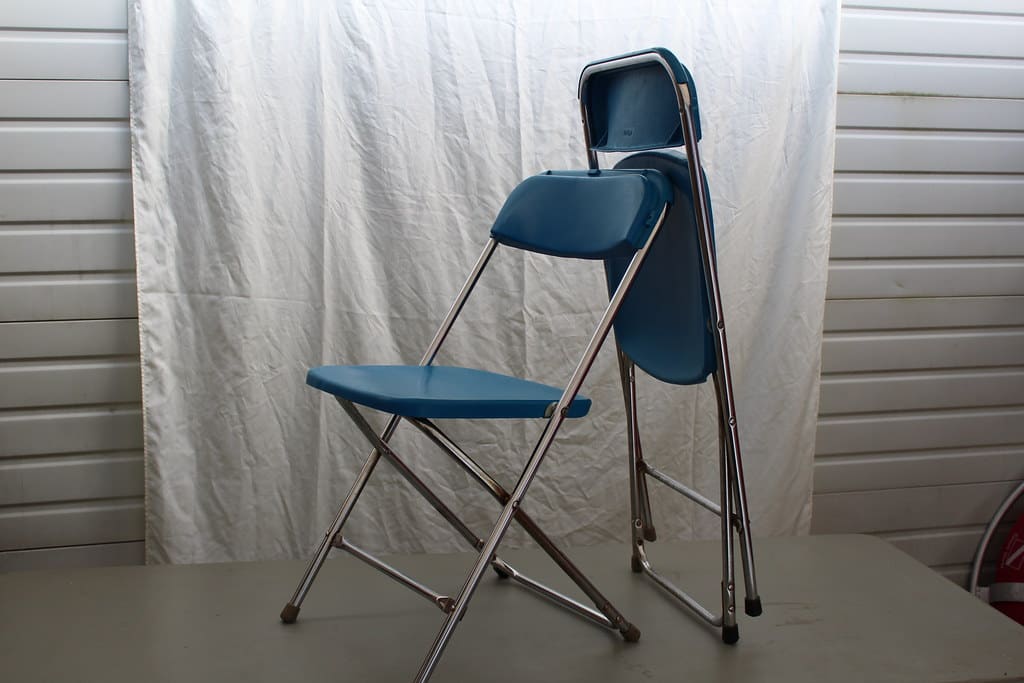 Whether you decide to go with the fold-down table or not, hanging your dining chairs while you aren't using them may help you save some valuable floor space.
Make Use Of Your Backsplash As Additional Storage
Your backsplash may have a purpose other than being a visually appealing focal point! If you're concerned about drilling holes, use Command hooks to hang your favourite cooking tools if you don't want to bother with a pot rail.
What To Avoid For Small Simple Kitchen Designs
The creative design process may quickly become overwhelming, so it's crucial to take a step back and consider what you actually need in your kitchen at the outset of the project for your small simple kitchen design.
Make Sure The Flow Is Not Interrupted
The key to any successful design is considering how the kitchen layout will flow initially. When designing a kitchen, the 'working triangle' is a common concept to follow in which the layout revolves around the placement of the sink, stove, and refrigerator in a triangular form.
Journey flow indicates how a kitchen should be laid up depending on the shape of the triangle. Modern kitchens, on the other hand, are pushing the boundaries of the time-honoured triangle idea to new heights.
Incorrectly Sized Worktops
It is possible to ruin a kitchen design by placing worktops at the incorrect height. Is there a standard for calculating the height of a worktop? When it comes to kitchen worktops, the typical height is between 890 and 940 millimetres.
Countertop thicknesses and plinth heights dictate the ideal height of a worktop, so there is no one-size-fits-all answer. Either your supplier or your own personal choice may affect these two elements.
Installing Subpar Flooring
Choosing the incorrect flooring for your kitchen may be an expensive and time-consuming error. In kitchens, there are three essential elements to consider: safety, durability, and simplicity of cleaning.
High-quality, low-maintenance flooring that can last the test of time is the greatest option for kitchens since they get a lot of activity. Vinyl and laminate flooring are both long-lasting and cost-effective options for kitchens, and each has its own set of advantages and disadvantages.
To prevent costly blunders, take the time to think about the area you're remodelling before making a decision on kitchen flooring. If you're looking for style and appropriateness, this will assist.
Look at the little details and see whether it's a good match to the style you're going for before you make a purchase. A trip to a shop or purchasing samples is worth the time to see the different finishes in person and make sure they go with the rest of your decor and the overall appearance you're going for.
Using The Incorrect Colour Of Paint
The finish is more important than the colour when it comes to kitchen paints because if you get it incorrectly, the paint won't survive and will be rapidly damaged by splashes and spills, no matter how wonderful the shade is.
For a kitchen paint, you'll need something that's more durable than your typical matt emulsion finish. Kitchens are probably the hardest working areas in our homes. However, it is easy to remodel a small kitchen.
To ensure that your paint doesn't peel or scratch off, use a primer meant for hard surfaces. There are no harsh solvent fumes to deal with thanks to the water-based formula, and it is also much better for the environment since there are no toxic chemicals.
Final Verdict
The problem of having a small area is to come up with a easy simple kitchen design that combines all the key parts and functions without making the room appear cluttered. We propose that you engage a professional kitchen planner or an interior designer to construct the kitchen of your dreams. 
You have to choose the most appropriate layout for your space and pick an effective colour scheme, lighting choices, cabinet design and equipment. Additionally, working with a professional may make the difference between an average kitchen and a spectacular one.
Mostly Asked Questions About Small Simple Kitchen Design
How Do I Design a Small Kitchen?

There are different ways of designing a small kitchen. Some designers think that a small kitchen should be compact and functional. Others believe that a small kitchen should be elegant and natural with its materials and lines. Whatever your opinion on the matter, here are some tips on designing a small kitchen that will help you get started.
1. Start by shopping for everything: The first thing you need to do is buy everything you need for your new kitchen. This will give you a good feel for what your new kitchen will look like, and it will also help you get an idea of what you want it to look like.
2. Design your space: Now that you have everything bought, it's time to design your space. This is where most of the fun happens! You can either sit down and plan out the layout or use some tools like flipbooks or drawers to get a rough idea of where everything will go.
3. Go for fabric: Fabric is a very popular option for small kitchens because it's so easy to work with and it's so cheap! It can be used for everything from walls to cupboards to the floor itself. It's also very durable so it can last for years without needing any attention.
4. Choose paint colors: Now that you have a rough idea of where everything should go, it's time to pick some paint colors! Choosing colors based on a color scheme (such as pink vs brown) is one thing, but also thinking about how the paint color will reflect off of different surfaces is equally important. You don't want your new kitchen to look like a disaster zone if it starts raining!

How Can I Make My Small Kitchen Look Nice?

Here are some tips for making your kitchen look nice:
1. Keep things neat and clean: Keep things tidy and clean in your kitchen to make it look nice.
2. Use colorful ingredients: Using colorful ingredients will make your kitchen seem more cheerful and fun.
3. Make use of space well: Use space well in your kitchen to make it look more spacious.
4. Invest in good quality products: Invest in quality products so that you can stay creative in the kitchen.

What Is the Best Colour for a Small Kitchen?

Yellow is one of the best colours to have a small kitchen. It is also the colour that is used very often in kitchens, especially in small kitchens. It gives a nice and fresh look to your kitchen. It can be used for different things like cooking, decorating, and even for the flooring of your kitchen.