If there is one area in the home that presents a challenge when attempting to arrange the heating, that space is the kitchen. This is mostly due to the wall areas being a premium space and necessary to maximize kitchen work surface and equipment, as well as the fact that floor spaces might be smaller than those in other rooms. Know how to heat a kitchen without radiators.
Heating a kitchen is a crucial consideration from the beginning of a new kitchen design, particularly considering that this area comes with its own set of issues that need to be taken into account when selecting a heating system.
These Factors to Consider Are as Follows:
Possible reduction in the amount of wall space available for the installation of wall-mounted heating systems
preventing cold patches, particularly in the bigger, open-plan layouts that so many contemporary kitchens seek to have
The warmth produced by home equipment such as the stove, the refrigerator, and the oven
In addition, it is essential to take steps to guarantee that you have as much control over your heating systems as is humanly possible.
These steps should include the installation of thermostatic valves on radiators and digital controls for underfloor heating, as well as timers to guarantee that your heating is utilized effectively at the times when it is required.
Continue reading to learn about some of the most effective methods for heating a kitchen, as well as the benefits and drawbacks associated with each alternative.
Putting Up an Underfloor Heating System in a Kitchen
When it comes to heating a kitchen, underfloor heating (UFH) is not only a well-liked option, but it's also likely the best one to go with if your project allows for it.
The use of underfloor heating ideas for kitchens is associated with a number of positive benefits. Not only does it make the most practical use of the space and save energy, but it also happens to be the most efficient method of heating the area, making it more than just a luxury for having toasty feet.
However, there are several factors you should think about before selecting an underfloor heating system. You will first be required to make a decision between installing electric underfloor heating or a wet system that is linked to the central heating system in your house.
Adding More to the Kitchen and Heating It With Underfloor Heating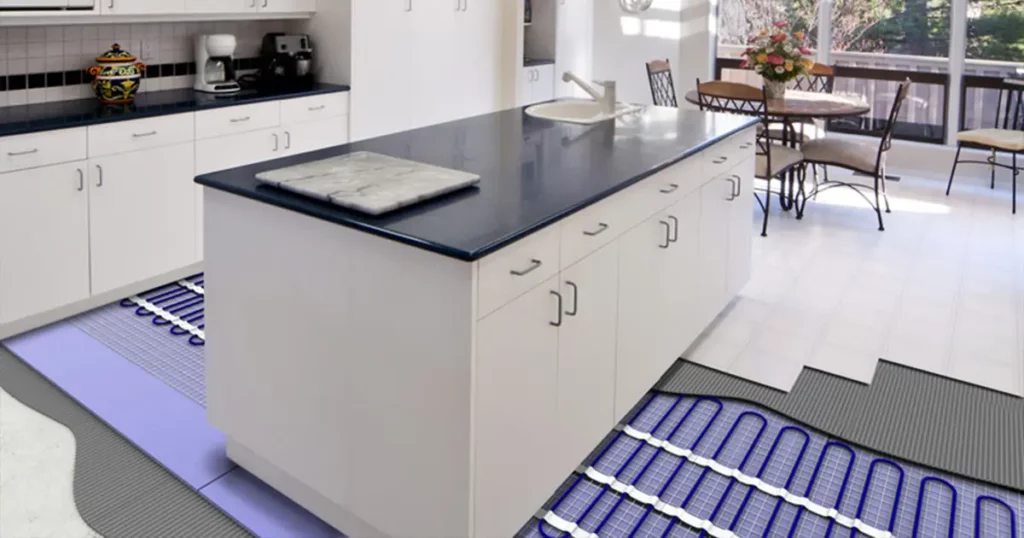 Wet systems are often the preferred option; however, it may be challenging to install one in an existing kitchen unless you are self-building or adding an expansion.
 Because the floor profile will be greatly raised by any kind of wet UFH, it is possible that you will need to perform work to dig out the current kitchen floor in order to make room for it even if you choose for a buried pipe style of underfloor heating (UFH).
In addition to this, you will need to make place in your area for an underfloor heating manifold.
Electric underfloor heating has a significantly thinner profile and is quicker to install, but it is more costly to operate and is not always ideal for locations where space heating is required for extended periods of time, such as in a kitchen.
When selecting an underfloor heating system for your kitchen, you will also need to give some thought to the kind of flooring that is already installed there to guarantee that the system will work with it.
For instance, solid wood flooring will not be able to withstand the significant shifts in temperature and would instead get twisted and ruined as a result.
How to Heat a Kitchen Without Radiators
You can have a radiator system as your primary heating source in a kitchen if you are in the process of renovating an existing kitchen area. If this is the case, you should be aware of this fact.
Radiators are efficient at heating a space since they have a short response time and can heat a room in 20 to 30 minutes. These days, radiators also have a much more appealing appearance, and there is a wide selection of designer radiator ideas available to choose from that can be tailored to match the design scheme of any kind of home or kitchen.
Radiators, on the other hand, cannot provide the same level of equal distribution that UFH can since the heat will always originate from the location of the radiator, which means that one side of the room will heat up more quickly than the other.
This will almost likely result in the formation of cold patches in a wide open room, particularly if you do not have enough radiators across the whole space, or if you do not specify radiators that have enough BTUs.
Radiators, in addition, take up precious floor space. Wall space is at a premium in kitchens; yet, vertical type radiators provide greater space usage than horizontal ones in these areas. However, this may also have an effect on your floorplan and the furniture placement that you decide to make in the area. Radiators also collect dust and should be cleaned on a regular basis.
Heating for the Plinths of a Kitchen
Plinth heaters are compact heating systems that make use of the plinths of a kitchen, so maximizing the use of space that would otherwise be underutilized. Plinth heaters come in two varieties, similar to those used in underfloor heating:
Heaters for the Plinths That Are Electric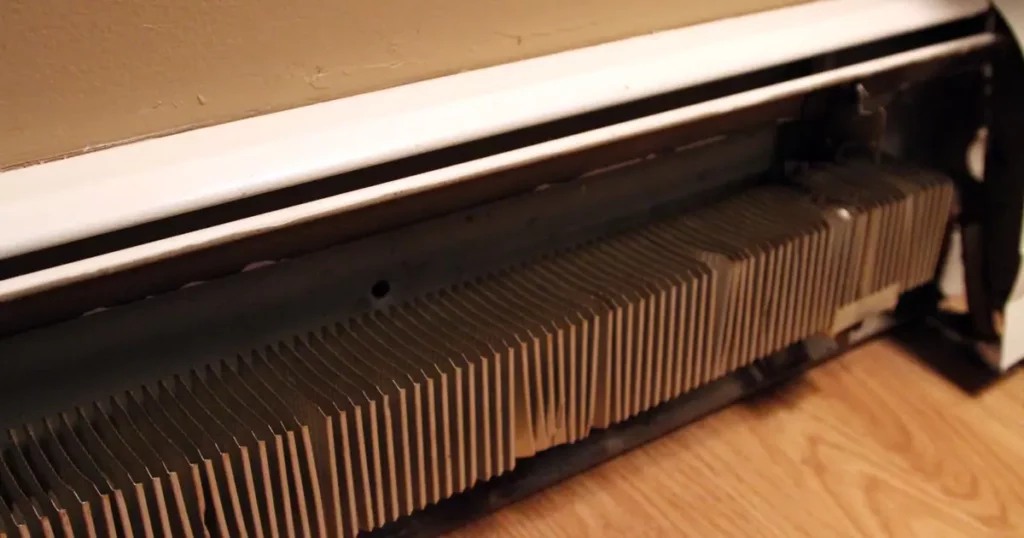 The advantages and disadvantages of each type are very similar to those of UFH. Heaters that are connected to the central heating system have lower operating costs than electric heaters do; however, plinth heaters make efficient use of space, are relatively inexpensive, and are simple to specify and install.
Hydronic heaters will have a greater output than electric heaters, but both will likely need some help in heating a bigger kitchen. Both may perform better as a supplemental heat system to fill out your kitchen's space heating demand and avoid cold patches.
When in operation, these heaters will make a hushed blowing sound, which is an important detail to keep in mind.
The Kitchen May Be Heated With the Help of Border Heating
Adding a heating system that is concealed behind the cabinetry of your kitchen is possible using another method known as skirting heating. Which is one of the best kitchen heaters.
This system typically involves the incorporation of a heating system into the design of a skirting board, which can then be run along the length of a room. However, skirting heating can also be provided in a "plinth" version, which can be installed at the base of kitchen units or fitted wardrobes, for example. This is another option.
Because they may be manufactured in any length up to 6 meters, the infra-red radiant heat that they generate is often enough to heat an entire kitchen.
When wall space is at a premium and leaving room for a radiator might potentially impair the kitchen's appearance, skirting heating is an excellent option to consider.
They do not heat the floor from beneath as underfloor heating does, but they do disperse heat over a larger area than a conventional kick space heater or radiator since they may span the length of the room. This is because underfloor heating heats the floor from underneath.
Heat-Storage Range Cookers
Both cooking and heating may be accomplished with the help of an ever hot heat storage range cooker.
Heat-storage range cookers are intended to provide both space heating and cooking in a single appliance. However, since there is such a wide variety of brands and models now on the market, you will need to undertake research to see what features your particular range cooker has to offer.
On one end of the spectrum, there are range cookers that are created just for the purpose of cooking, while on the other end of the spectrum, there are heat-storage range cookers that can give hot water and heat your whole home.
However, getting acclimated to heat-storage ranges as an alternate means to heat your space and to cook with might take a little bit of time. When compared to other, more regularly seen appliances, they utilise radiant heat for both the oven and the hobs, which requires more experimentation on the user's part.
Putting Up a Cooktop Inside of a Kitchen
In an open-concept kitchen, a stove or fireplace is another fantastic choice since it can be utilized to boost the heat from another source while simultaneously serving as a focus point for the living area and the eating area.
Stoves are more energy-efficient than open fireplaces, and freestanding stove designs allow for more creative placement within a space, making them ideal for sitting in a corner without the need for a traditional fireplace surround.
Stoves are not likely to be used as the primary source of heating for a space, but they are more likely to be used as a secondary or supplementary source of heating for a space. However, keep in mind that it requires enough ventilation, and think about how the stove fits into the greater picture of how your kitchen is designed.
Again, there is a selection of fuels available to choose from, including wood, gas, electricity, and even bioethanol fireplaces that don't require for ventilation.
Even while it is simpler to maintain a gas or electric fire running and has more control than a log burning stove, there is something that can't be denied about the true crackling of wood on a fire that shouldn't be disregarded.
Other Types of Alternatives to Radiators for Heating
Traditional Radiator That Is Mounted on the Wall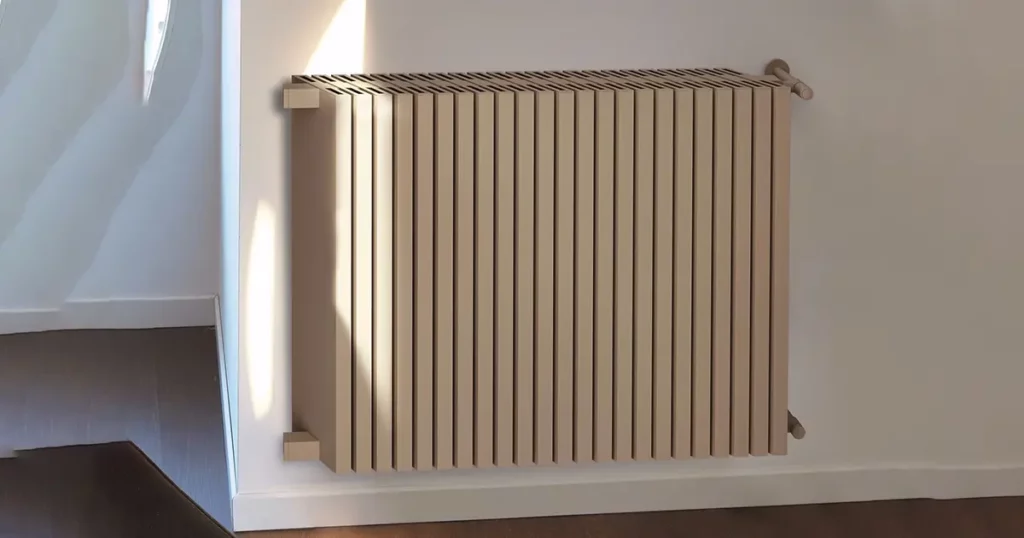 When individuals first started having central heating placed in their homes, the most popular kind of heating that could be found in the kitchen was a traditional radiator, which dates all the way back to 1855.
The radiator was created in 1857 by Franz San Galli, a Russian merchant who was born in Prussia and resided in St. Petersburg. The process of inventing the radiator took two years, and it was ultimately finished in 1857.
Although at first they would have been powered by steam rather than hot water as they are now, these Alternatives to Radiators for Heating were a significant milestone in the beginning stages of the development of contemporary central heating.
Companies such as the American Radiator Company, which increased the development of low cost radiators in the United States and across Europe, were responsible for the rapid spread of the cast iron Victorian radiator towards the end of the 19th century. This rapid spread led to the radiator's widespread use.
Advantages & Disadvantages of Traditional Radiator
Advantage :
✅ Purchased at a low cost.
✅ Low noise
✅ Simple assembly required
Disadvantage :
❌ When dealing with larger heat outputs, the radiator's size might be fairly substantial.
❌ Because of this, the wall space cannot be used for anything else thereafter.
❌ Contain a high amount of water and contribute to uneven heat dispersion across the space.
Wet Underfloor Heating: Heating Ideas for Kitchen 
Even earlier than 500 BC, the Romans and Greeks were employing raised floor systems called hypocausts. These systems consisted of the floor being raised up on pillars, and hot air was routed under the floor to warm it. Underfloor heating dates back even farther than that.
By 1960, a researcher from Canada had successfully completed the first installment of an underfloor heating system that made use of water pipes. After another five years, Thomas Engel came up with a way to stabilize polyethylene, which led to the production of what would eventually form the foundation of the new pipe technology.
Even though he had the patent for his procedures, he decided to sell them to the major pipe manufacturers in 1967. By the 1980s, the wet kind of underfloor heating was becoming increasingly commonplace around the globe.
It would go on to become the primary heating technology in several nations, such as Korea.
Around the turn of the millennium in the United Kingdom, the installation of wet underfloor heating systems on newly constructed homes and businesses started to become more common.
Advantages & Disadvantages of Wet Underfloor Heating
Advantage :
✅ Provide a more even distribution of heat than radiators.
✅ Compatible with the low flow temperatures of the latest renewable heating systems.
✅ Ideal for floor surfaces made of hard stone, which tend to be on the chilly side.
Disadvantage :
❌ Extensive earth excavation results in high installation costs.
❌ When increased completed floor levels are being retrofitted, this might present some problems.
❌ Less spacious kitchens, which are unable to provide sufficient heat in the portion of the floor space that is not occupied by the units.
Electric Underfloor Heating Mats for the Floor
The electric element mat kind of underfloor heating is an alternative to the "wet" form of underfloor heating that is used by central heating systems. This type of underfloor heating relies entirely on electricity to warm the flooring.
People often pick this approach as a means of heating their kitchens, despite the fact that it was originally designed for use in bathrooms with little space.
You are able to specify the heat output of the mats to be suitable for a variety of different types of completed floors and insulation.
Advantages & Disadvantages of Electric Underfloor Heating Mats
Advantage :
✅ comparatively low cost in comparison to wet underfloor heating
✅ A skilled do-it-yourselfer is able to install
✅ Choose from a variety of heat outputs depending on the flooring.
Disadvantage :
❌ Low energy efficiency and expensive ongoing maintenance expenses
❌ Problems and breakdowns are common with electric underfloor heating systems.
❌ It is necessary to insulate the floor below, which might turn out to be expensive.
Plinth Heaters That Use Hydronic Energy
Since the 1970s, plinth heaters have been on the market, and throughout the years, they have shown to be one of the most effective heating options for your kitchen.
The hot water from the central heating system is routed via a heat exchanger that has a tiny fan blowing over it in order to take use of the fan convector concept. This forces heated air out of the front of the device, which in turn heats the surrounding area.
The primary source of heat for the kitchen comes from the boiler that also powers the central heating system, and the fan only consumes a few watts of electricity to run. The construction and manner in which these units are operated have remained unchanged for many years, right up to recent times.
Thermix, a British producer, is working on obtaining a patent for its sophisticated controls, which include wireless thermostat models and, more recently, ones that can be operated by voice.
Advantages & Disadvantages of Plinth Heaters
Advantage :
✅ Discreet and compact, making use of the space that would otherwise be lost beneath the plinth
✅ Large amounts of heat production, prompt responses, and control of the thermostat wirelessly
✅ Low initial and ongoing expenditures, as well as an easy installation process.
Disadvantage :
❌ Requires a fused spur electrical connection
❌ It is necessary to make connections to the central heating system.
❌ Plinth heaters that are electric
In the event that there is no central heating system, an electric plinth heater is a viable alternative.
Frequently Asked Questions
How do you warm up a cold kitchen?
1. Install bright lighting under high ceilings.
2. Choose between open shelves and kitchen cabinets.
3. Reclaimed wood adds warmth to industrial kitchen décor.
4. Lines and surfaces should be cleaned.
5. Color may be added to an industrial kitchen.
6. Guests may congregate around a FeelsWarm Kitchen Island.
Do you need a radiator in your kitchen?
Without the dry heat of a radiator or, even better, a heated towel rail in your kitchen, tea towels may stay moist and worthless for hours – sometimes even overnight – making them a breeding ground for germs!
How can I heat my kitchen without wall space?
Plinth Warmers, They are the ultimate space-saving option since they do not take up valuable wall space, which means you do not have to sacrifice storage or work surface space. When turned on, they nestle into the base of a kitchen cabinet and create rapid heat.
Final Thoughts
The kitchen is the one area in the home that might provide a challenge when it comes to making plans for the heating system. This is mostly due to the wall areas being a premium space that is necessary to maximize kitchen work surface and equipment, and the floor spaces being smaller than in other rooms.
There are many choices accessible as alternatives to radiators for heating, but each one has distinct benefits and drawbacks to consider. In this section, we will examine the different options on the market and provide further information about each decision.