Kitchen flooring options should always be given serious consideration since the kitchen floor is probably one of the biggest surface surfaces in your house.
Give your kitchen flooring as much thought as your cabinets when developing your kitchen design ideas. It must be durable, safe, and easy to maintain, and of course, it must look fantastic.
Considering the style and material of your cabinets when choosing flooring in the kitchen is a wonderful place to start since flooring ideas should always coordinate with the rest of the space.
IDEAS FOR KITCHEN FLOORING
Modern kitchens will benefit from materials like matte porcelain and tough laminate, while historic designs will benefit from warm wood and natural stone tiles. Polished concrete is a popular kind of modern kitchen floor ideas that has an elegant, industrial feel.
Be sure to account for all installation fees as well as additional expenditures for underlays, fixatives, and grouts. Make sure the underfloor heating you want to install is suitable with your flooring options for kitchen before you purchase.
Knowing how to select the greatest kitchen floor may be challenging since there are so many flooring options for kitchen. Let us help you focus your search with professional guidance and our picks for the finest materials, styles, finishes, and designs of the best flooring for kitchens UK.
FOR A CONTEMPORARY LOOK, GO WITH DARK FLOORING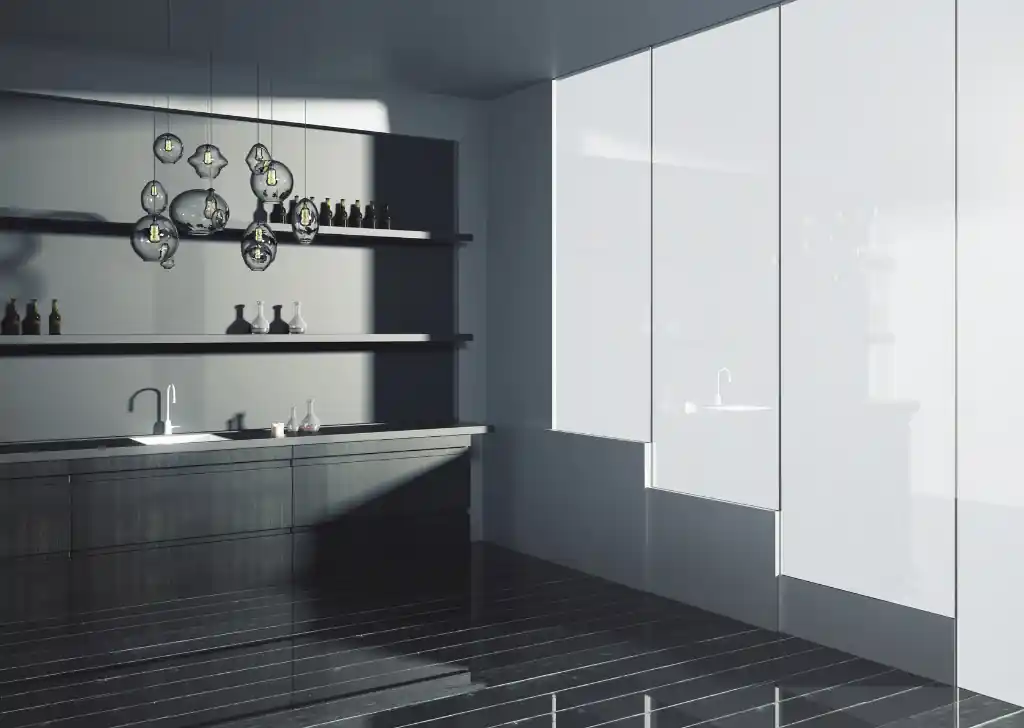 Dark flooring need not give a room a closed-off or unwelcoming feeling; in fact, it might have the opposite effect. Black flooring options for kitchen is excellent for matching with just about every other color out there and may provide a sophisticated, modern kitchen floor ideas when used with the right complementing colors.
CHOOSE PREMIUM Marble Laminate Flooring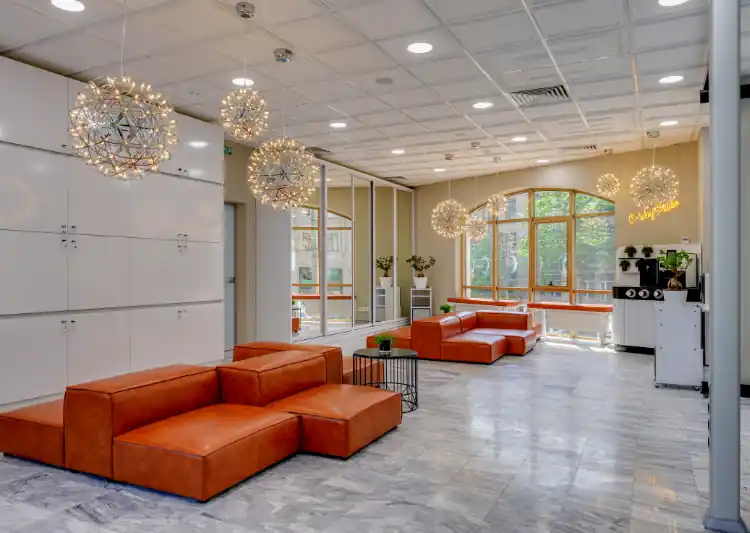 Your kitchen may become a really show-stopping environment by installing marble laminate flooring, which is timeless, robust, and breathtakingly gorgeous. This is one of the best kitchen flooring options available now.
There are many different designs and alternatives that may be integrated into your kitchen, ranging from big size tiles to marble vinyl effects. The durable material may gracefully boost your kitchen decor, whether you match the marble laminate flooring used on your countertops or choose for a contrasting marble pattern for extra emphasis.
INCLUDE A RUG TO ENTICE COMFORT
Although kitchens are not traditionally linked with rugs, adding texture to your kitchen with kitchen rug ideas may make it seem cozier and more welcoming.
A rug is ideal for big, open-plan kitchen designs because it can soften and warm up hard flooring while creating a sense of connection and unity in the room. Another quick and easy kitchen flooring options to choose from for your kitchen area to add some colour and personality is to add a rug.
USE WHITE FLOORING TO CREATE A LIGHT AND AIRY FEELING
White flooring can provide a very quiet, relaxing ambience that is ideal for a busy, high-traffic space like a kitchen, whether you pick white painted floors, white stone, or white vinyl. This is one of the kitchen flooring options which is elegant yet, practical.
Waterproof Flooring For Kitchen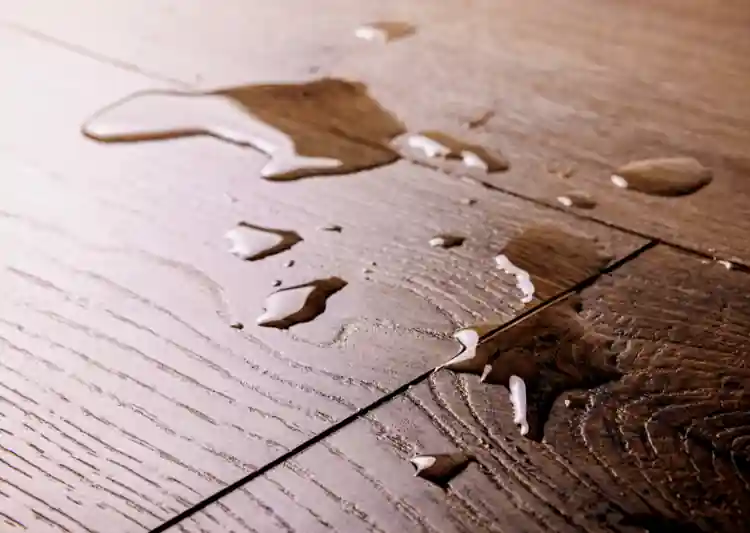 Consider any significant spills that may have occurred in your home. Like that one time your youngster dropped the open gallon of milk, causing it to splash everywhere, When this happens, waterproof flooring may save the day.
Children, animals, parties, and other situations where spills may occur may be nightmares. However, an option that might give you peace of mind is waterproof flooring.
Water-Resistant WPC Vinyl Flooring
The newest and most popular vinyl product to hit the market in recent years is WPC vinyl. Waterproof Core and Wood Plastic Composite are both referred to as WPC.
Ceramic And Porcelain Tiles
Compared to other flooring alternatives, ceramic and porcelain tile is more often utilized in bathrooms. If you've ever used a restroom, there's a good chance you've seen tile there.
This is mainly because tiles are built of durable glaze, which prevents liquids from penetrating through the top surface. It's perfect for waterproofing your bathroom because of this. One of the oldest types of flooring, tile is also relatively simple.
Tile comes in a wide variety of appealing appearances. In addition to artistic and mosaic designs, several of the more popular alternatives also closely resemble stone and wood, providing a plausible substitute for the genuine, pricey material.
Laminate Flooring vs. Vinyl Flooring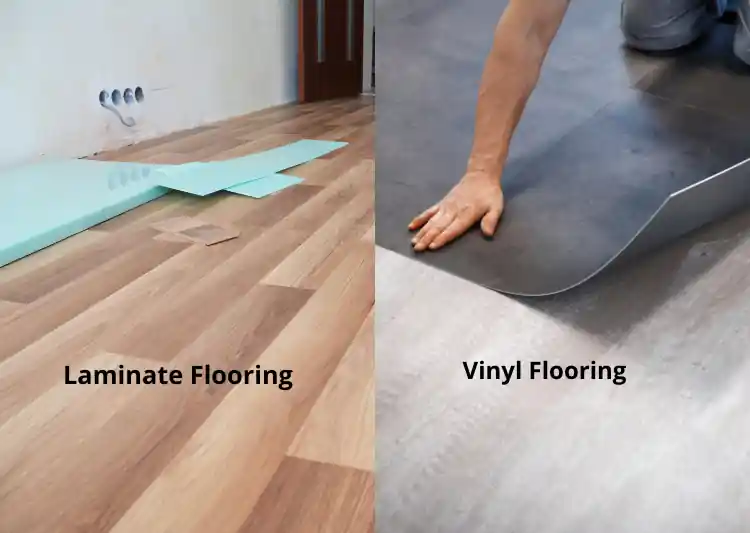 There is a frequent misunderstanding between laminate and tile effect vinyl flooring. In contrast to laminate, which is often more vulnerable to damage when moisture is present, vinyl has an inherent resilience to water and moisture.
Manufacturers are now introducing waterproof laminate solutions to compete with WPC vinyl flooring roll, which has historically been the top waterproof flooring option.
Technically, the majority of laminate flooring marketed as "waterproof" is really more water-resistant than completely waterproof. However, several new waterproof laminate flooring tile solutions have become possible thanks to breakthrough technology.
Waterproof Laminate Flooring Advantages
The most common kind of wood-look flooring options for kitchen available is laminate. Laminate flooring that is waterproof is really much better than the original! Let's look at what makes laminate flooring that is waterproof fantastic.
Wood seems realistic. Today's laminate appearances are so convincing that the majority of homeowners cannot distinguish between laminate and real hardwood. Laminate flooring that is waterproof is often very high-quality in terms of both appearance and manufacture.
Value at resale. Great things are spoken about laminate. Prospective homeowners are glad to buy a property that has laminate flooring installed, especially waterproof laminate flooring tile, especially when it is combined with its authentic wood appearances.
Fast And Simple Installation:
 Typically, waterproof laminate flooring is available in interlocking planks, making installation a weekend project even for inexperienced DIYers.
All your laminate needs to maintain its gorgeous appearance is the occasional vacuum and wet mop.
Ideal For Subfloors With Imperfections:
 Many waterproof laminate flooring tile alternatives, like the majority of WPC vinyl, are strong enough to be laid over uneven subfloors. Another factor contributing to laminate flooring's ease of installation.
Advantages Of Laminated & Vinyl Flooring
Despite its excellent reputation, laminate is still relatively new in the waterproof flooring industry, which has its own set of drawbacks. For the kitchen flooring options.
Price: 
Laminate flooring has always been one of the least costly types of flooring. However, when you learn more about waterproof laminate flooring, you'll discover that the majority of alternatives cost more than equivalent to wood effect vinyl flooring.
Selection: 
Since waterproof laminate flooring is still relatively new, there aren't many alternatives available at the moment. There may not be much variety.
Longevity:
Laminate flooring options for kitchen joined the party a bit too late to secure a competitive position in the waterproof floor tiling ideas sector, where woof effect vinyl flooring roll is dominating.
Final Verdict
Given all the details above, you can now have a complete idea of the best flooring for kitchens UK options and which will suit your need. Flooring options for kitchen are many, and should be considered keeping in mind the type you would want from the flooring options for kitchen listed all above.
Listed Queries About The Best Kitchen Flooring Options For A Stunning Design
What type of flooring is best for kitchens?

ceramic tiling, Porcelain kitchen tile flooring wins for strength and aesthetics. Because of a manufacturing technique that makes it stronger and less porous, it is an improved version of conventional ceramic tile and an excellent option for kitchens where spills are probable. Both glazed and unglazed porcelain tiles are available.

What is the easiest kitchen floor to keep clean?

Durability and simplicity of maintenance are key considerations for kitchen flooring. Linoleum, ceramic tile—both quite popular—and wood are all good options. Linoleum is accessible, offers a surface that is simple to keep clean, and comes in a wide variety of patterns. Even better are ceramic tiles.

Is laminate or vinyl flooring better for kitchens?

LVT or vinyl roll is a superior flooring solution for kitchens to reduce the possibility of water damage. Both of these vinyl alternatives come in a variety of wood patterns, much like laminate.

What is the most hard-wearing flooring for kitchens?

One of the toughest and most often used tiles for kitchen walls or flooring. Clay, in this instance, is used to create ceramic tiles, which are then baked into a finished product. They come in a huge range of designs, sizes, hues, and patterns.