When you're the empress of the house, the kitchen, especially if it's small, can appear inconvenient and daunting. Your kitchen, without a doubt, should be the most convenient space in your house.
You've arrived at the right place if you're seeking for smart and practical solutions to store your essentials. We are going to show you some creative ideas for making the most of your kitchen space. Let's have a look at Small kitchen organization ideas!
When it comes to Small kitchen organization, the main key is either freeing up existing space or creating an additional room. If you aren't a sorcerer, this can be worrisome. But don't worry, we're here to help! We've gathered all of the best small kitchen design ideas in this article. They're all as useful as they are incredible, and they won't cost too much to install.
Ideas For Organizing A Small Kitchen
Essentially, the goal is to make your space appear larger by reducing the illusion of clutter as much as possible.
1. Shelf Risers:
Shelf risers are useful because they add an extra shelf to an existing shelf. You can separate dinner and salad plates, as well as cups and mugs with them. They're also useful for keeping pantry items, spices, and tableware organized. This can be a great trick for small kitchen storage ideas on a budget.
2. Portable Kitchen Cabinets:
Consider portable kitchen cabinets if your kitchen is small and you can't install cabinets to meet your storage needs.Pots and pans are not only large and bulky, but they can also be difficult to store. To save room, you can pile them on top of each other, but this does not work well when it comes to using them. Sticky hooks can be used to store potholders and dish towels on the inside of cabinets. We recommend using a Portable Kitchen Cart/Island if your kitchen lacks storage space but has room for a large piece of furniture. This will allow you to make the most of your available space.
3. Potholders:
You can also tuck away potholders, like the rest of our cleaning supplies at the back of your cupboard. You can research a little on the internet for ideas of designs of Over-the-door organizers.
4. Drawer:
You know how valuable drawer space is if you have a small kitchen. So, in order to get the most out of those drawers, you'll need to organize them! If you don't have enough counter space, your oven could be a good place to keep baking sheets, muffin tins, and even baking pans.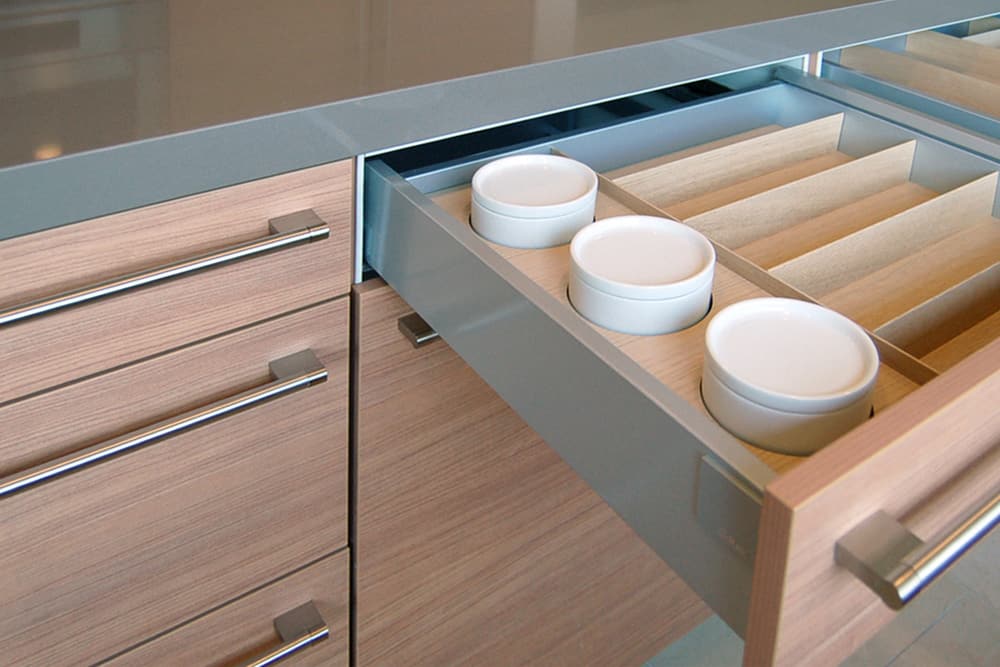 Just remember to take them out before starting to bake! Is there a space above your refrigerator that has to be filled? Put it to use! Whether you have cabinets up there or it's just an empty space, it's a place for you to keep things! I recommend hanging baskets over your refrigerator because they're portable and double as large drawers.
5. Plastic Bag:
Do you realize how many pantry items these days come in plastic bags? They're great because they're re-sealable, but they're a pain to keep track of. To keep your cupboards organized, get rid of those bags and transfer your belongings to containers as soon as feasible.
6. Pantry Container System:
It's a good idea to find a pantry container system that fits your shelving. To begin, determine how much you can fit on your shelves by measuring them. Then do a pantry audit to see how many goods you're trying to fit in there. Last but not least on our list of small kitchen organization ideas is to build your own pantry. If you're low on room and can't find a home for your pantry items, make one. If you have a blank wall, you could put a shelving unit there. A shelving unit could be built under a window if there is space. You don't have to keep your pantry in the same room as your kitchen! It could be found in a corridor, a coat closet, or even your living room. Our one piece of advice is to make sure you have non-clear containers/bins for everything if you're using open shelves. It will be a lot more structured and less cluttered as a result of this. There's no cramming anything onto the shelves! You want everything to be in its proper location so you can keep as organized as possible.
7. Avoid Clutter:
One of numerous apartment kitchen ideas is to keep your counters clean and clutter-free. This will make it appear as if your kitchen is larger. What is the best way to declutter your little apartment kitchen? Kitchens become clogged over time, and compact kitchens are particularly susceptible. Here are eight ways to keep your small kitchen from becoming cluttered. If you live in a small apartment, condo, or house, there's a good chance you have a small kitchen. Even in larger apartments and houses, this is a concern. Keeping possessions to a minimal is one of the most crucial organizational criteria for a little kitchen. The usage of kitchen utensils and gadgets can make cooking tasks easier. However, if you have a small kitchen, storing them can be more of a hassle than it's worth. When deciding which appliances and gadgets you need, think about the kitchen tasks that can be accomplished with another item you currently have.
A particular apple slicer, for example, is nice, but you presumably already own an apple-chopping tool. Also, test your appliances and devices on a regular basis to check that they are still working. To avoid taking up space, repair any broken appliances you still desire as quickly as feasible. Donate or discard whatever you don't use any more.
8. Keep Only Essentials:
Only keep as many dishes, bowls, mugs, glasses, and cutlery as you use every day. It's fun to acquire tableware, and pieces are regularly given as gifts and souvenirs, but it can quickly fill up the cupboards. So, unless you routinely host large gatherings, retain only what you need. You can always borrow extra tableware if you're organizing a special celebration. If you have special occasion tableware that you want to keep, store it outside of your kitchen to free up cupboard space. Depending on the intricacy of one's cooking method and the number of people to feed, the number of pots and pans necessary varies. Even yet, you may not require as many pots and pans as you believe. Small pots, for example, are easier to clean, but a medium pot can do everything a small pot can do and more. The same may be said about pans. Rather from crowding your small kitchen with a range of pots and pans of varying sizes, concentrate on a few medium and large items that can accommodate most common cooking needs.
Organize Your Kitchen:
Small kitchen storage ideas is the best method to organize a kitchen in a tiny apartment. Kitchen arrangements frequently shape the tone of the moments that make up our home lives, from the types of breakfasts grabbed during the morning rush to how often a home-cooked supper makes it to the table.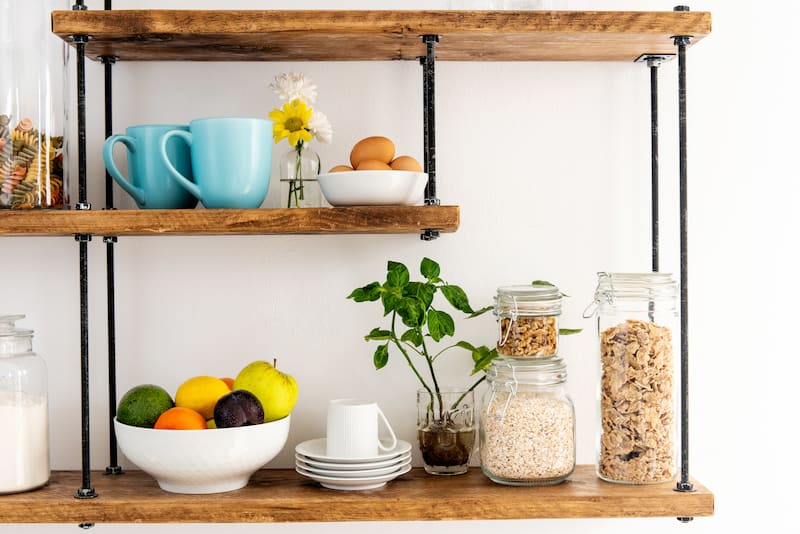 Instead than emptying one cabinet at a time, empty all of them at the same time. Arrange everything on the counters and table if necessary. The idea is to have complete visibility in your kitchen. Assemble similar items together. The pots and pans are all interchangeable. All of the devices have been gathered into a single pile. And each spatula is reunited with his fellow spatulas.
1. Proper Use Of Kitchen Cabinets:
You'll have a nice clean workspace whether you're making an elaborate meal or a simple sandwich. Reducing space in your apartment kitchen cupboards with magnets is a fun way to do so. They can be used to store knives and spices. Simply use a magnetic strip to hang your knives on the wall. This will keep your knives within easy reach and ready to use at all times. At home, you may construct a magnetic spice rack. Place magnets on the bottom of tins and hang them on the side of the refrigerator, or hang a metal sheet on the side.
2. Maintain Your Kitchen:
The most significant component of getting a beautiful kitchen for any homeowner is selecting cabinetry and high-end appliances. This should not be done in the name of decorating ideas for a unique look in your kitchen. However, there are a few less expensive and attractive solutions for kitchen remodeling. You can pick from a variety of decorating ideas and be confident that you will get the greatest results. Simple is the ultimate elegance, and there's no better way to create a fashionable kitchen than by mixing simple decorative components.
3. Decorate Your Kitchen:
Color coordination, focal points, current trends, proper lighting, and closet pulls and holds can all aid in the organization of a tiny kitchen. The decorative items, on the other hand, should be put in regions where they will be viewed the most. If you're looking for a standout focal point, this is the place to go. You'll want to keep your kitchen up to date at all times. Aren't you convinced? Without making big adjustments or spending a lot of money, you can choose from a number of current styles. Also, test your appliances and devices on a regular basis to check that they are still working. To avoid taking up space, repair any broken appliances you still desire as quickly as feasible. Donate or discard whatever you don't use any more.
4. Rearrange Your Kitchen:
Try to see your kitchen through the eyes of a visitor while arranging it. In addition to a good color painting job, you can put ornaments on shelves or the wall. Open shelves are a simple and inexpensive way to update the design of your kitchen. Lighting is probably one of the most significant concerns when it comes to improving the appearance of your kitchen. The lighting in the kitchen will serve to lighten it while also adding a sense of richness. A pendant lamp is one of the most effective lighting options available. There are many different types of pendant lights to pick from, each with its own distinctive style. As a result, the choice of pendant is entirely yours.
5. Use Closet Organizer:
Closet organizers are inexpensive items that can dramatically improve the appearance of your kitchen. Changing the handles is another simple and low-cost way to radically alter the look of your kitchen. Closet organizers are available in a range of materials and designs at many places. In general, homeowners are apprehensive about remodeling their kitchens because they assume it would be costly.
6. Be Organized:
It's difficult to keep your kitchen clean, especially if you have a small kitchen. Kitchens are equipped with a variety of tools to help us feed ourselves and our loved ones. When these instruments become disorganized, cooking becomes a time-consuming procedure that no one wants to do, resulting in a lot of hurried, unbalanced meals and to-go food. According to the golden rule of getting organized, inventory must correspond to storage. It should be your goal to have as much empty shelf and drawer space as possible. Make a day on your calendar to go through your belongings and lessen the quantity of stuff you have. Start with the floors and work your way up to the surfaces, drawers, and interiors.
Before you begin arranging, empty each drawer, cabinet, and storage location. This can be done in stages, but I like to complete it all at once. Perform a high-level purge at this point, sorting your possessions into what you think you'll keep and what you're ready to toss. Simply getting rid of some of the clutter can be liberating and facilitate the rest of the organizing process.
7. Use The Most Of Your Apartment Kitchen:
If you have a small kitchen, it's vital to maximize the available space. With deep shelves that are difficult to access, corner cabinets are commonly disregarded. Keeping too many duplicate kitchen supplies on hand is one of the most common organizing blunders I see. It is, nevertheless, one of the most straightforward concerns to handle and a vital step, particularly in small kitchens. With a keen eye, inspect all of your plates and cooking equipment. If you're not ready to get rid of everything, put what you don't use on a daily basis in boxes and store it in the attic. You can always re-insert anything into circulation if you really need it.
Kitchen Organization Ideas On A Budget:
When your kitchen is the most essential area in your household, you'll certainly want to organize it according to your preferences. However, our bank accounts do not always allow us to do what we want. But you'll need to be a little savvy to get what you want, and you'll need to work smart, not hard, to do so. Here are some great ideas for organizing your kitchen according to your preferences while staying within your budget.
Final Verdict:
The kitchen, on the other hand, is the most important room in the house, so it's only logical that you make it seem spectacular. Accepting the best decorating suggestions will assist you in creating an extraordinary look in your kitchen while staying within your budget.
There's no reason a small kitchen can't exude serious style and appear larger than it actually is. A kitchen of any size may feel expansive if you know how to utilize the space with a few simple design methods. Many city kitchens, such as those in London, New York, and Paris, are notoriously small, yet they are among the most beautiful in the world, reflecting both fashionable city living and some inventive space-saving solutions.
Finally, while most of us don't have time to organize and deep-clean our homes on a weekly or monthly basis, we can get into the habit of recognizing and addressing clutter before it becomes overwhelming. It's amazing how much easier it is to keep your kitchen neat once you've put in the initial work of space planning and organization. If you're still having difficulties staying tidy after attempting these suggestions, it's possible that your kitchen needs a more fundamental makeover. Now that you've organized your tiny kitchen, make sure it stays that way.
Questions & Answers About Kitchen Organization ideas For Small Kitchen
How Might a Small Kitchen Be Set Up Most Effectively?

A small kitchen organization idea is to purge and purge some more!
When you have a small kitchen, you are limited in what you can put in the cabinets. You can put in a lot of items, but it doesn't have to be all at once. You can start with the things that are used the most and purge those. Put them all in a big bag, then take them out once a week and toss them. Once they're gone, the rest of the items are back.
Another small kitchen organization idea is to use organizers that work for the space, not against it. A lot of times we buy stuff that doesn't work for our space because we're buying too much just to throw away. Organizers work for us and for what we want to put there. When we use a small kitchen organization idea to purge, we get rid of some useless items and put in place what works for us.

In a Tiny Kitchen, How Do You Store Things?

In a little kitchen, you should store things out in the open (i.e., on a shelf or countertop). You can put hooks all over the place to hang things, or you can use them as little storage cubbies. You can also put little corners to good use, like on a wall. Use windowsills as a storage space, and hang a pegboard for your supplies. Lastly, get cute folding chairs and hang them up!

How Should I Arrange My Small Kitchen Appliances?

In a little kitchen, keep small appliances behind closed doors but still close at hand by designating a kitchen cabinet as a breakfast area or snack bar. Include pullout shelves for a handy work space, and install electrical outlets inside the cabinet.