Having an outdoor kitchen is an excellent addition to your home. Also, without any doubt, outdoor kitchen lighting ideas should be taken into consideration by decorating the beautiful area surrounding your patio where you can grill your favorite meat, have a party with all your friends, drink as much as you want and just have a good weekend overall.
Outdoor Kitchen Lighting Ideas
Outdoor kitchen lights should be a huge priority in this case. Most of the gatherings in an outdoor kitchen are for grilling, having steaks, or even just having a casual party which in most cases happens during the night. Therefore we have this list of outdoor kitchen lighting ideas which can help you achieve a great look overall for your outdoor kitchen.
1. Outdoor Kitchen Lighting for Work
This type of outdoor kitchen lights is important to help you do all the tasks of your kitchen. Chopping, grilling, marinating your meat or seeing how well your steak is done. This type of outdoor kitchen lights should be placed above your grill or above the countertop where you work. Make sure the lights have a switch to turn it off and on easily so that you can use it only when necessary. As this will not be an outdoor accent lighting, it will strictly be used for work purposes. 
2. Countertop and Bar Lighting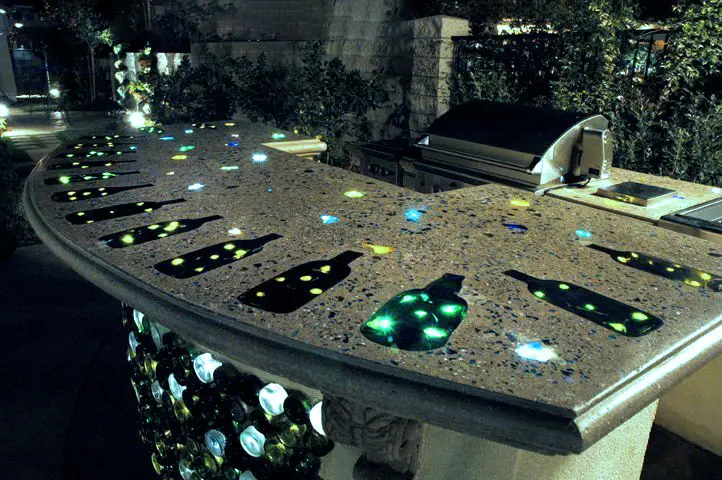 Of course, there is a space for a bar and a countertop to hang out in your outdoor kitchen. To enhance the overall look of your outdoor kitchen lighting, use led strip lights. Outdoor kitchen lighting led is a great option to install for aesthetic and also practical purposes.
Another best way to use it is to put it under and inside lower cabinets where hanging or overhead lights don't provide light.
3. Lighting for the Stairs
Obviously, overhead outdoor kitchen lighting is important. However, what about treating lighting for safety? This will help you to reduce hazards like tripping over the stairs as the tread lights fit directly into the stairs and focus below the downward steps of the stairs.
In case your outdoor kitchen does not have stairs, use these lights to install them under the patio or the countertop sides.
4. Pendant Lighting for Outdoor Kitchen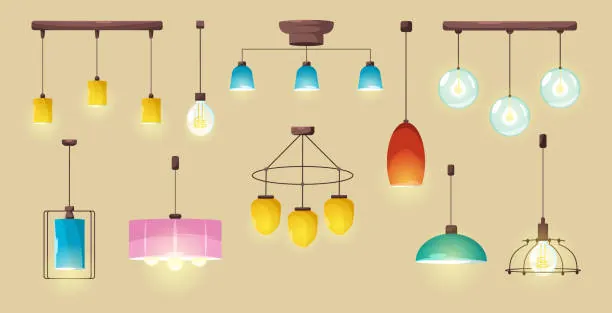 To make your kitchen look festive use pendant lighting. This could also be low-voltage outdoor kitchen lighting. Pendant lights not only act as a mood setter but enhances the whole look of your outdoor kitchen. This outdoor kitchen lighting can also be known as "moonlighting" which gives a gentle touch of light while illuminating the whole place.
5. A Café Bistro Type lighting
These strings of festive lights for your kitchens create instant fun. This is one of the types of outdoor kitchen light ideas which is a must if you are used to having regular parties in your outdoor kitchen.
One thing to know about Bistro lighting is you cannot find it in a cheap string lights store. These are UV-coated outdoor kitchen lighting LED. These LED bulbs last up to 10-20 years as per maintenance.
6. Remember the Dimmers in your Outdoor Kitchen Lighting
Setting the mood or adjusting the light with daylight or night, are extremely important and great. You can operate some smart lights, which include the most available on the market by using your phone!
7. Use Coloured LED Lighting
LED tape light which can be used under the counter-areas as outdoor kitchen lighting is a great option to make your kitchen look unique. You can change the colors as per your mood settings and ambiance. Also, not to forget, these are low-voltage outdoor kitchen lighting. This type of outdoor kitchen accent lighting is an excellent option to decorate your kitchen on any occasion, using a specific color theme. 
8. Outdoor Kitchen Wall Lights
These are the most common yet, useful set of outdoor kitchen lighting that provides brightness, are the most versatile, and are the most important. The wall lights can be used for outdoor kitchen accent lighting- warm or cool depending on your aesthetic. Also, the wall lights help illuminate a place. 
9. Lights to Illuminate the Pathway
Yes, outdoor kitchen lighting is very important, but what about the outdoor lighting that will guide them through your indoors towards the outdoor kitchen? Use pendant lighting for the outdoor kitchen and the pathway to illuminate the whole space for your guests. You can also use outdoor kitchen wall lights around the pathway, to add a touch of aesthetic to your place.
10. Ceiling Fans with Lights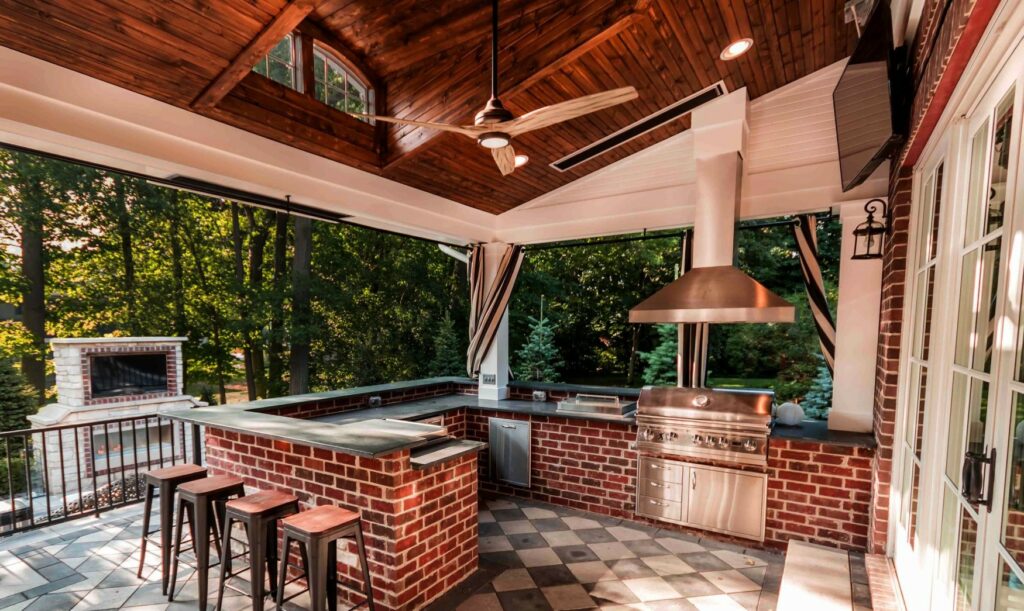 This is a multitasking lighting fixture for outdoor kitchen light ideas. Along with keeping your guests comfortable, these fans with lights help keep the mosquitoes and flies away with the breeze. The main part here is choosing the right fan. Choose one that has multiple options because the outdoor weather can be sometimes unpredictable. This is also an option that is a low-voltage outdoor kitchen lighting option.
Frequently Asked Questions
What type of outdoor lighting is best?
1. Atlas Solar Spotlights
2. Trueflame Mini Solar Torch Lights
3. Philips Hue Lily Outdoor Colour Ambience Spot Light Set
4. John Lewis FestoonNordlux
5. Vejers Outdoor Wall
What kind of light do you use for an outdoor patio?
The best ones are pendant lights or string lights. There are beautiful LED ones too!
How do you illuminate a kitchen?
Have the proper amount of light and calculate the positioning of the lights too. 
How can I improve my outdoor kitchen lighting?
If you're not using LED lights yet, switch to them and have accurate outdoor kitchen lighting.
Are LED lights good for the kitchen?
Currently, they are the best in the market for your kitchen. 
Conclusion
Remember to choose one that fulfills all your outdoor kitchen lighting needs. Also, remember to position them so that they illuminate the place without casting shadows anywhere. For outdoor kitchen light ideas, it is best to choose LED lighting to save money and also energy. You can also combine different ideas together to get the outdoor kitchen of your desire.