Designing your kitchen well is one of the crucial aspects of interior design. If you're looking to upgrade your kitchen in 2023 and wondering about kitchen hardware trends in 2023, look no further. Kitchen trends have evolved in the last couple of years and are more exciting than ever.
The modern trend has a renewed focus on using natural materials and colours inspired by the outdoors while ensuring soothing and comfortable spaces.
Hottest Kitchen Design Trends 2023
Trends always keep changing and updating; however, some designs stand the test of time. On top of kitchen design trends in 2023 are timeless and versatile arrangements that go well in any kitchen style. Furthermore, matching colours and contrasting colours are trending as well.
Some of the modern trends in 2023 are-
Porcelain Countertops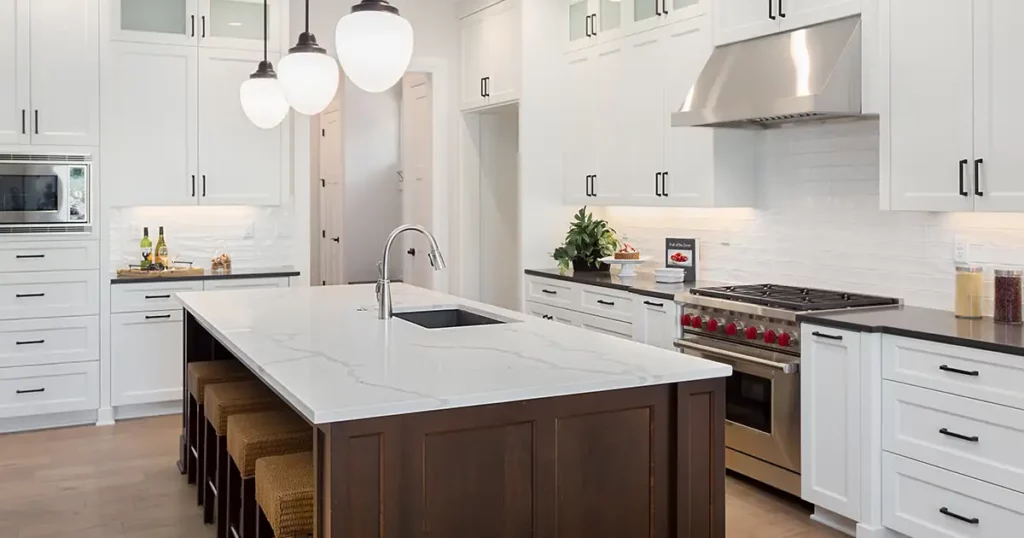 Marble, granite and quartzite have always been top choices for materials for kitchen countertops. However, Porcelain countertops are in trend now. Porcelain is durable and hard-wearing, besides being beautiful to look at.
If the colour of the Porcelain is white or other pale colours, it will make the kitchen look spacious while lightening a dark kitchen. Furthermore, Porcelain is scratch and stain-resistant, making it a perfect choice for your countertops.
However, you may also opt for darker colours if that goes best with the rest of your kitchen.
Kitchen Jewelry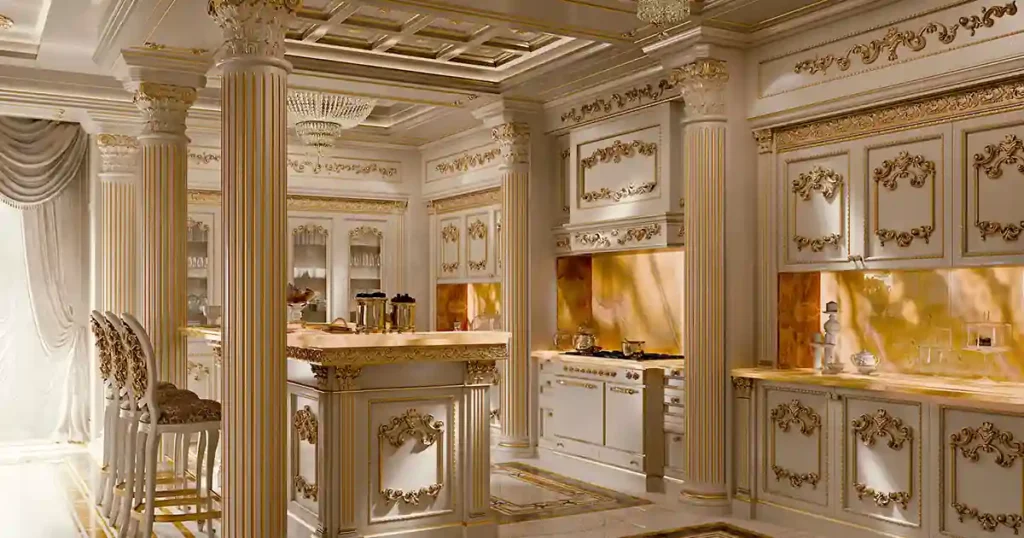 Modern kitchen cabinets and drawers look incomplete without a metal touch and finish. Knurled design and contrasting finishes are the most current trends, as they add warmth to any kitchen.
For finishes, copper, bronze and gold are the trending options. A touch of gold can instantly improve the look of your kitchen. Besides cabinet knobs or door handles, vases, bowls, light shades, and other hardware would also look good in metallic finishes.
If your kitchen cabinets are dark-toned, gold handles and knobs will go exceptionally well with them, instantly adding a touch of sophistication.
Black/Matte Black Kitchen Hardware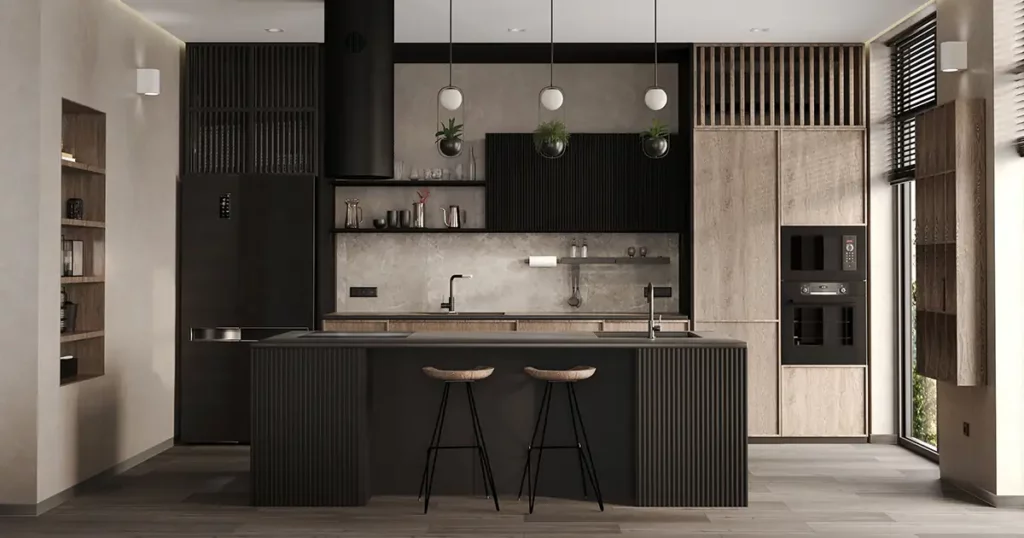 While Black Hardware was commonly used as a contrasting base or accent shade, it is used more predominantly as a modern trend. You have numerous options of finishes and materials of black that you can use to create a layered interior of only black.
If well executed, a black kitchen can have aesthetic properties and values unachievable by any other colours, so it's no wonder, it'll be trendy in 2023. To have a sophisticated look, you can have cabinets and drawers with black or matte black finishes.
However, if you want a contrasting colour, you can always use the classic black-white combination. If your cabinets and drawers are black, your walls and countertops being white will create a good variety that looks modern and classic at the same time.
Two-toned Kitchen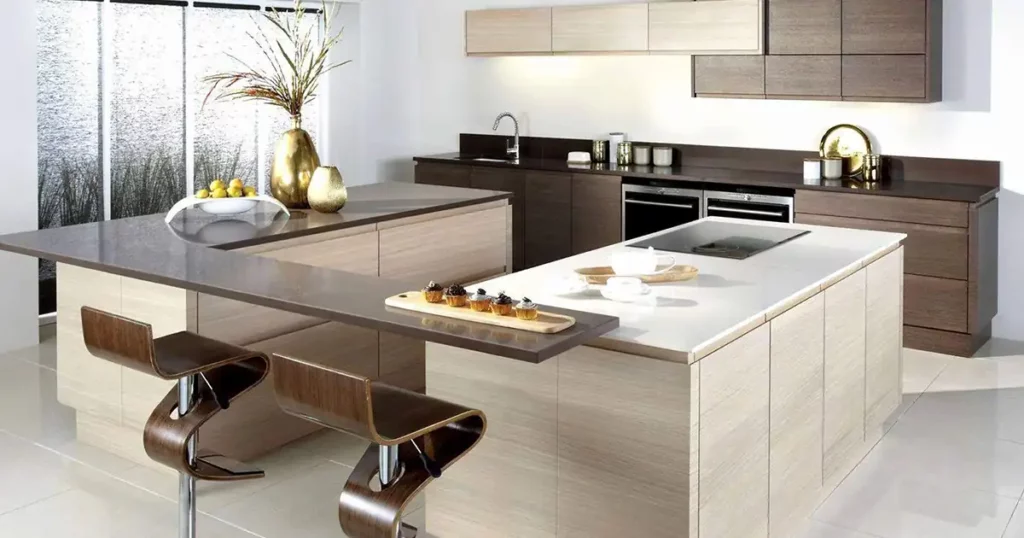 Two-toned kitchens are one of the modern trends in 2023, and they can make your kitchen look fresh and colourful. You can use the two-tone principle for your cupboards, countertops, kitchen islands, walls, and ceilings.
If you have hanging cabinets and cabinets on the floor, you can add contrasting colours to your kitchen. Black and White are the most common choices for two-toned kitchen hardware. However, some other modern colour combinations include- blue-white, grey-white and green-white.

Large Fridges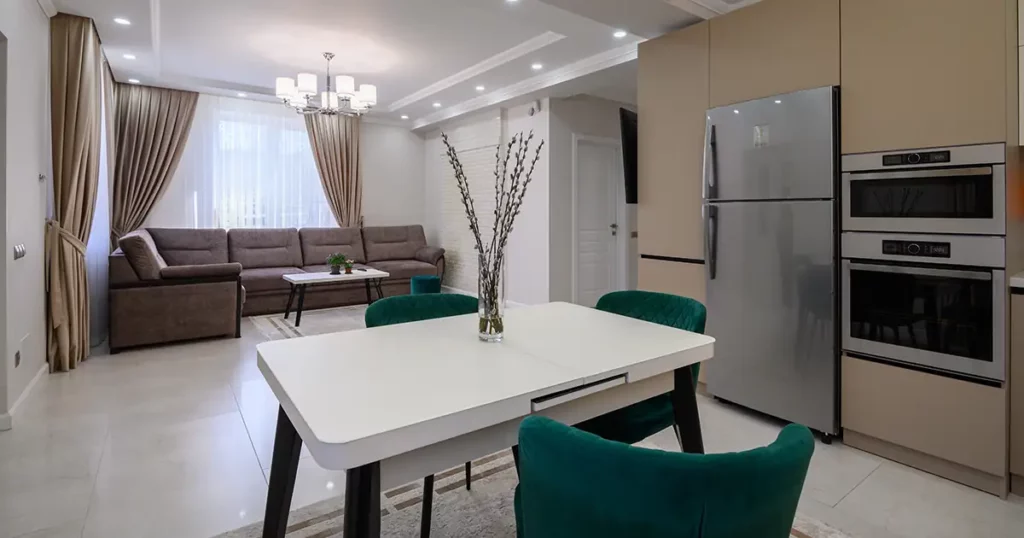 Extra-large Fridges are becoming trendy, and it's safe to argue that it's also becoming a standard feature when designing a new kitchen. Besides adding up to the overall aesthetics of your kitchen, super-size fridges would also bring extra functionality.
Modern architecture aims to use indoor space as optimally as possible, and having a large refrigerator means you can store up more food, requiring less frequent trips to the grocery store.
Steel Cabinets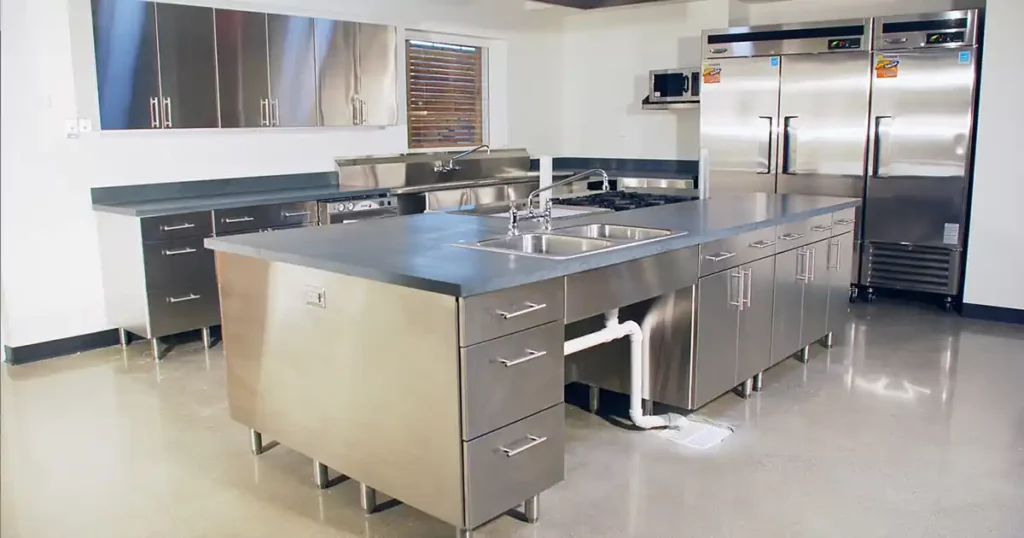 Cabinets have always been made with wooden finishes and sometimes with boards, but modern kitchens will often have stainless steel cabinets. It adds up to the minimal aesthetics most modern kitchens opt for and is one of the most attractive trends of 2023.
Stainless steel also comes in multiple finishes like- brush, mirrored, laser-printed and matte, and each has a distinct touch. Depending on your interior styling, you can opt for brush, mirrored, laser-printed, or matte-finished cabinets for your kitchen.
Besides cabinets, you can also have your kitchen counter and other hardware in stainless steel if you want a more consistent feel throughout your kitchen.
Smooth Wood and Aged Brass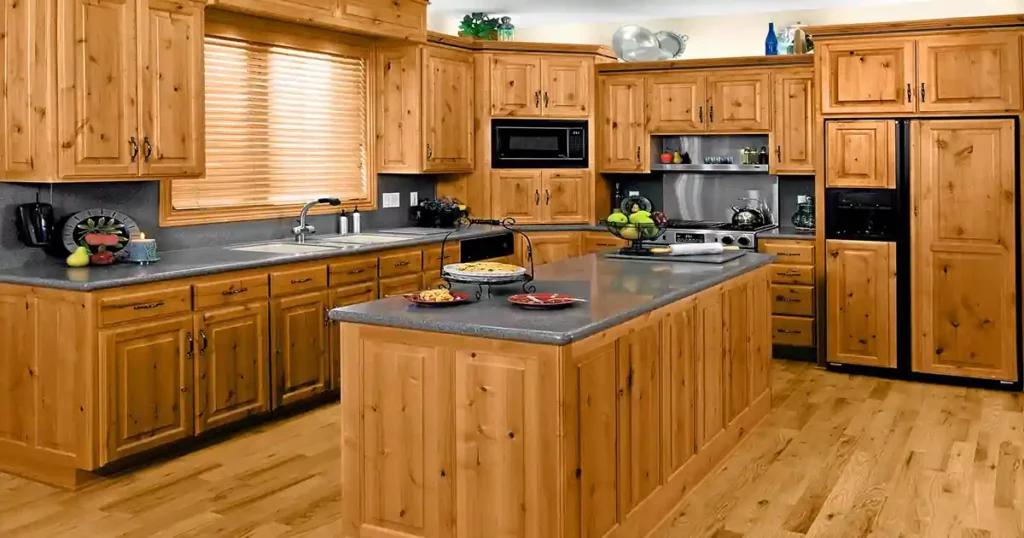 Kitchen countertops made with Smooth Wood and Aged Brass are one of the trends high-end designers are opting for nowadays.
The Cabinets of your countertop can be made with aged brass, offering a more industrial look, while the wood countertop can contrast this by having a smooth, whorl-free surface.
You can go with contrasting colours for your brass and wood parts to add up more to the overall look of your kitchen unit.
Because of the sleek design of aged brass countertops would also go very well with a minimal-style kitchen.
Multi-material Kitchen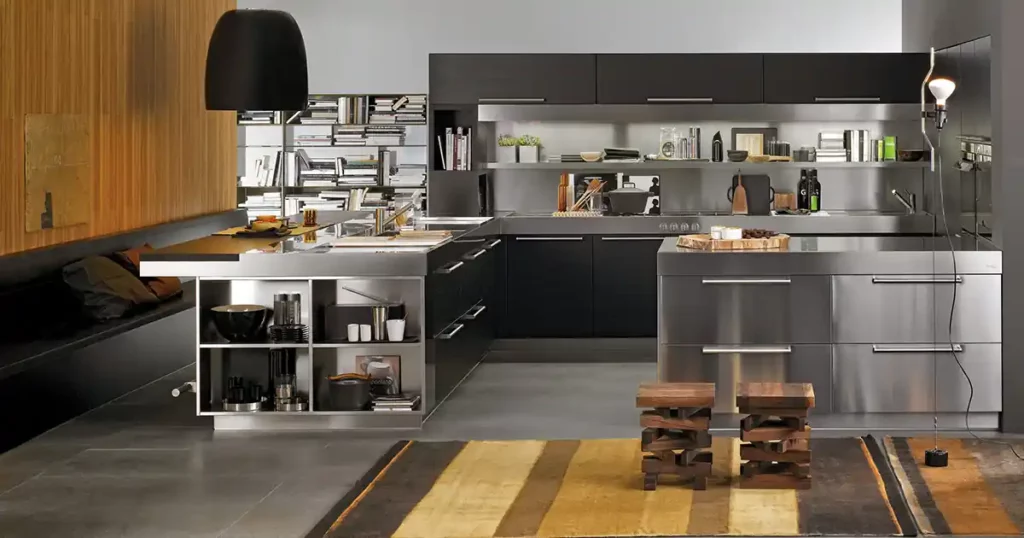 Two-toned kitchen hardware is trendy in 2023. However, you can emphasize this dual design more with multi-material hardware in your kitchen.
Have a combination of hardware made with wood, ceramics, stone and stainless steel for best results. For example, you can have your kitchen countertop made with stone while the cabinets and compartments are made with wood. You can have your sink area made with granite or porcelain.
Multi-material hardware and being in a dual-tone colour is one of the newest trends in modern times, and the result will be visually and textually pleasing.
Swooping Handles
Swooping Handles for kitchen cupboards and drawers are modern and trendy but provide added functionality.
Swooping handles are an exciting way to add some design sensibility to a relatively unused backspace, but it's more than aesthetics.
Because of the curvature of the handle, it's easy to hold and will let you grab the handle vertically and horizontally when your other hand is occupied.
You can also choose to go with different material finishes to add up to the overall aesthetics.
Concealed Hoods
Exterior fans do not look good in a kitchen, however, they are a necessity for the overall cleanliness of your kitchen and essential to ensure your kitchen doesn't get greasy.
One of the ways to counter this is to turn your kitchen hood into a design statement, and concealed hoods are the way to go. You can use a complementary tone of colour with a marble slab finish to blend it well with the rest of your kitchen.
Well-planned and designed kitchen hoods will always look good, whether your kitchen is minimalist or traditional.
Lighter Spaces
One of the common trends all kitchen stylings are following in 2023 is brighter space in the kitchen. Designers are opting to design the kitchen in ways allowing maximum sunlight to get in.
Huge windows, light hues and reflective panels on the kitchen interior are used to achieve this, and it's safe to say this trend will keep going strong in the coming years as well.
Rounded Kitchen Islands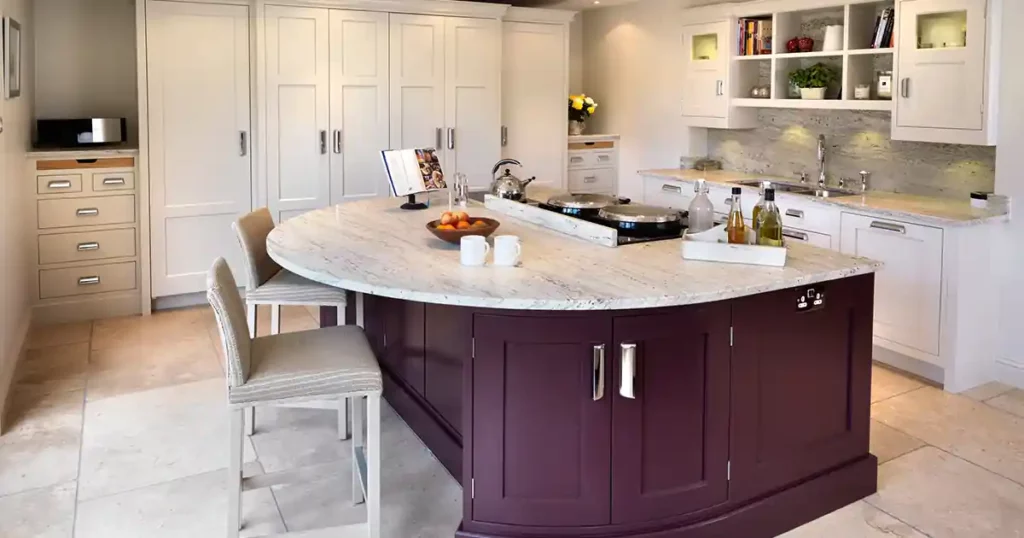 When we think of Kitchen Islands, a rectangular-shaped countertop comes to mind. However, the kitchen hardware trend in 2023 involves Rounded Islands for kitchens.
It can save space, adding to the minimal theme many modern kitchens involve and having a fresh, fabulous look for your kitchen.
You can go with all the classics like marble and granite for countertop materials.
Double Islands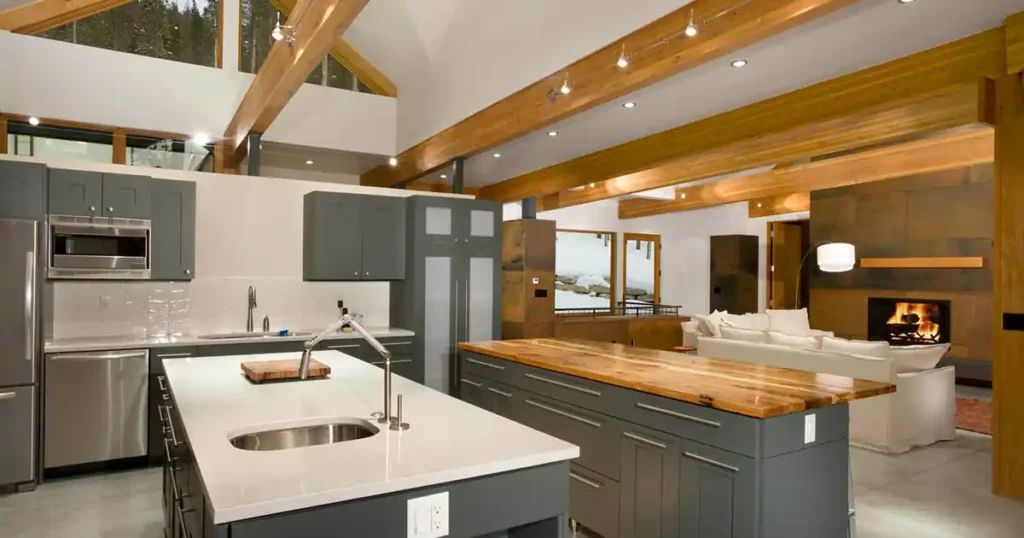 Kitchen Hardware Trends 2023 will see more double islands and they will look good in many kitchen spaces; however, it would look best in open-plan areas with double islands.
You might think double islands would make the kitchen look less-spacey. However, if it's designed and used correctly, it is not the case. You can use one of the islands to prepare food, while the other can serve as a sitting space for your guests.
This way, guests don't always have to opt for having food on the table, and you can have some good times with your guests while preparing food.
You can save space by pairing two half-sized islands instead of using full-sized ones.
Hidden Pantries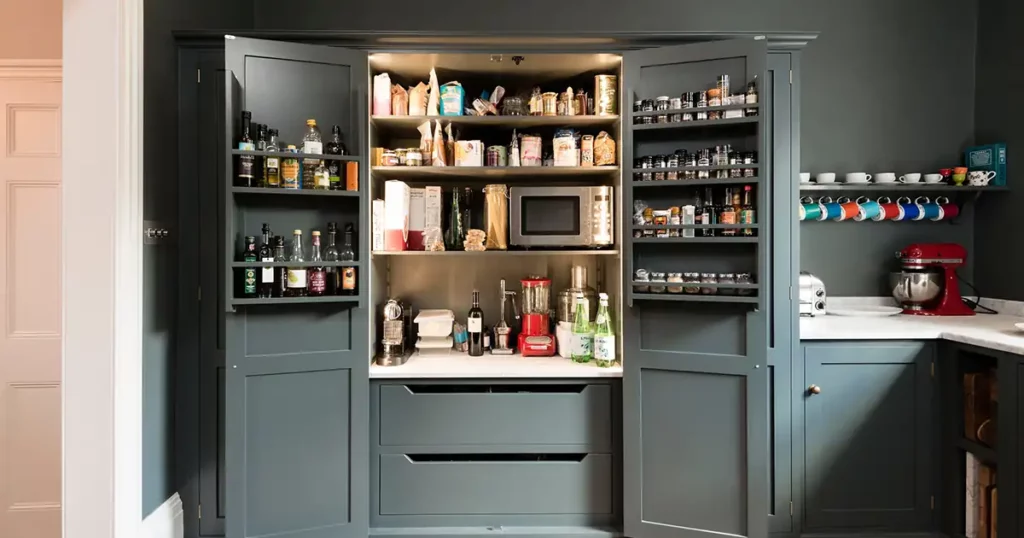 Minimalism is one of the common trends in interior design in modern times, and not only in kitchens. Hidden Pantries in your kitchen can help save space by holding onto minimalist aesthetics.
The Hidden Pantries design is also innovative since there are no handles, and you'll be opening the pantries using an electric system with buttons.
Space-saving Cupboard Kitchen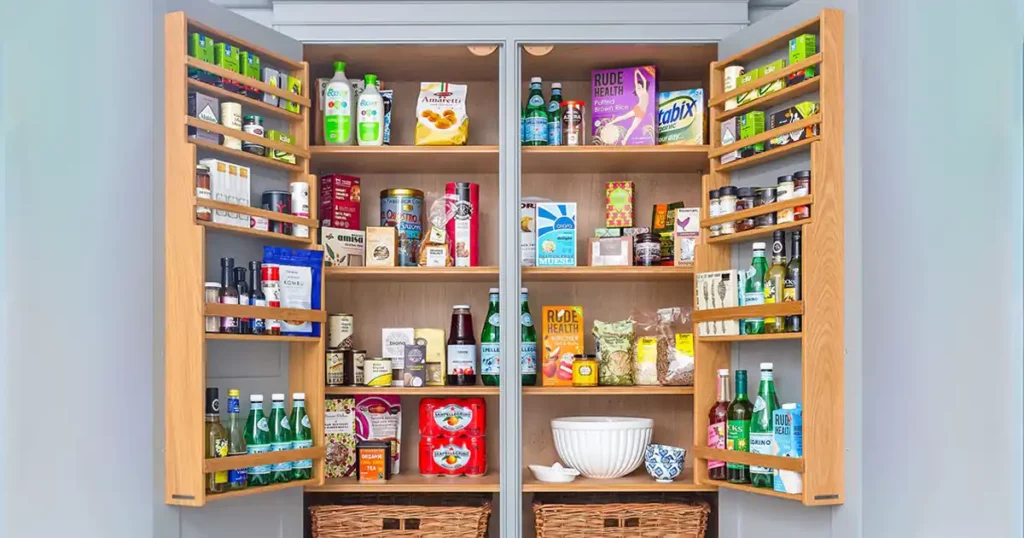 Minimalism is trendy in 2023, and Space-saving Cupboard Kitchen can make the most out of a compact space. 
Modern city apartments always need innovative designs that look good while being space-saving, and one of the ways to achieve that is by having rooms that can have more than one function.
A wood shutter hanging from a rail on the ceiling can act as a cover for a bed stored beside your cupboards during the daytime while covering your cabinet and giving access to the bed during the night.
Modern Lighting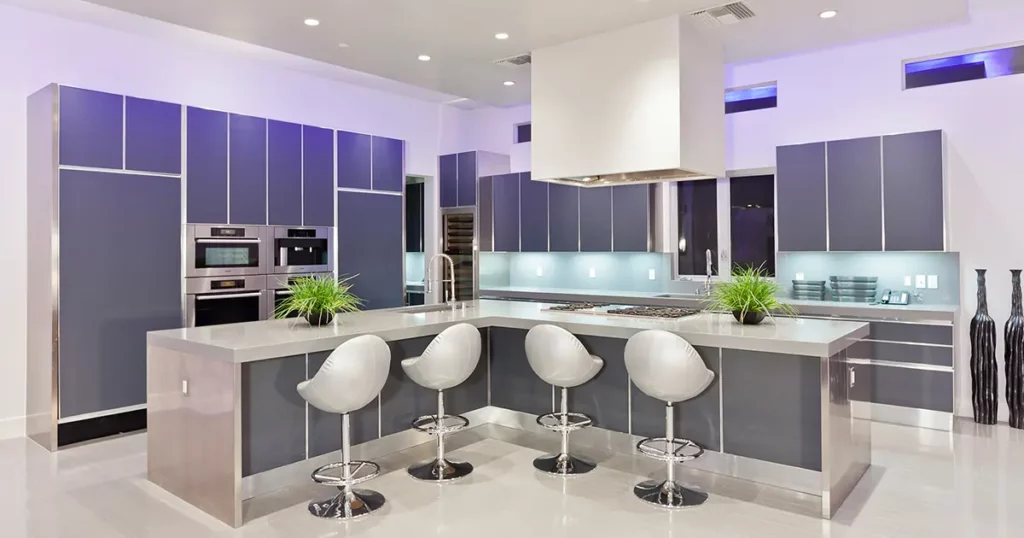 Using lighting creatively is one of the top trends for kitchens in 2023, and you can achieve a modern-trendy look in your kitchen while having a bright space to work on with innovative lighting.
One of the current trends is using an asymmetric light setup for your kitchen. You can have different asymmetric hanging light setups on top of your countertop hanging from your ceiling. It's both functional and trendy, and you'll find many options depending on the size of the lights you're looking for.
Bubble lights are also one of the modern trends for lighting a contemporary kitchen, and they can give your kitchen an exquisite look. 
Lampshades used to be one of the everyday feats of kitchen interior design but then went out of style. However, they are making a comeback and look best with cottage-styled English country interiors.
Most Common Questions
What will kitchen trends be in 2023?
Minimalism and making the most out of the given space will be trendy in 2023, furthermore, distinct color tones will also be in trend.
What is the most popular kitchen cabinet color for 2023?
The top 5 most popular kitchen cabinet colors for 2023 are – black, white, gray, green and blue.
What is the most timeless kitchen hardware?
Kitchen cabinets are the most timeless kitchen hardware. However, modern trends include- contrasting colors, using different finishes and color tones for doors and handles and space-saving cabinets.
What kitchen trends are out in 2022?
For lack of practicality, all white kitchens and double-ovens are out of trend in modern times.
Final Thought
Kitchen Hardware Trends 2023 focuses heavily on using most of the space, minimalism, and making the kitchen look good overall. Depending on your budget and needs, you have multiple ways to redesign and remodel your kitchen.
Two-tones, multi-material, an exciting choice for cabinet material etc., can be a good choice for remodeling your kitchen. In our guide, we've mentioned the most popular modern trends for the kitchen.