Whether you're searching for space-saving solutions for tiny kitchens or something extendable to accommodate all your devices, these storage ideas may make your life simpler. Want further kitchen organizing suggestions and tools? Check out our article for the most efficient 4 methods to arrange your pots and pans or your pantry. Kitchen drawer organizers are the best incorporation into your kitchen.
1. Good Grips Expandable Utensil Drawer Organizer
This expandable drawer organizer from OXO is an excellent choice for consolidating several things into a single orderly system. It extends to twice its size so that it may be adjusted to best fit your requirements, and the gripping feet on the bottom prevent it from sliding when you open and shut your drawer.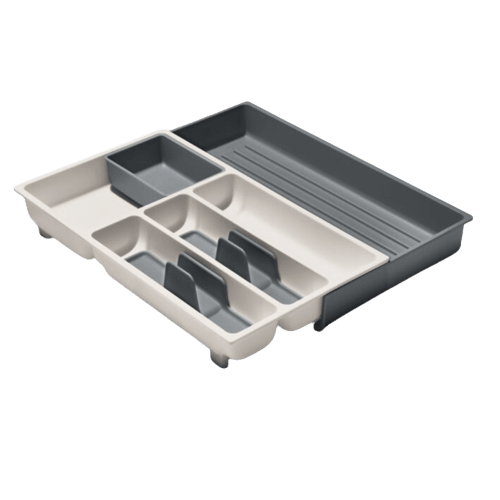 Features
Brand: OXO
Material Plastic
Dimensions 9.95″ L x 16.65″ W x 2.55″ H (expands to 18.05″ W)
Includes detachable cutlery trays
No-slip feet hold it in place
only contains two flatware caddies
2. No-Slip Large Silverware Tray Organizer
If you're looking for a simple, no-frills approach to arranging your kitchen drawers, this Rubbermaid silverware kitchen drawer organizer will do the trick. Five vertical slots may accommodate a whole set of silverware, while a horizontal slot across the top can hold chopsticks, reusable straws, or any other utensils in need of a home. This can be also used as a knife drawer organizer.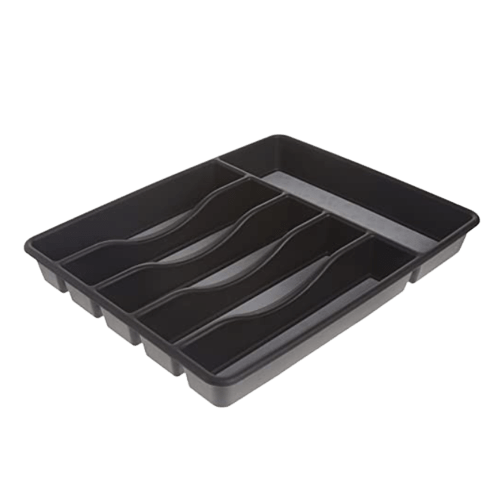 Features
Brand: RUBBERMAID
Material Plastic
Dimensions 15" L x 11.75" W x 1.75" H
Non-slip base
Budget friendly
not extendable and not adaptable
  You can also check out the 13 Coolest Modern Kitchen Wall Decor Ideas. 
3. Birch Utensil Organizing Tray
Kitchen tools may make cooking much simpler, but they can be difficult to store. A slot filled with lengthy utensils and a short garlic press can also act as a spice drawer organizer, which might prevent everything from fitting together properly. With this KonMari kitchen drawer organizer made of birch, you can adjust the dimensions of the spaces to create more accurate sections.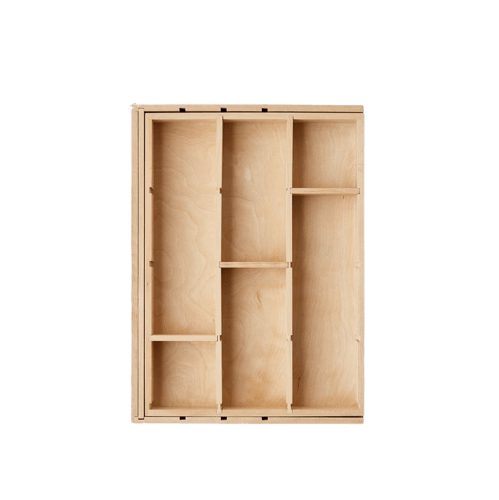 Features
Brand: Konmari
Material Birch wood
Dimensions 18.75" L x 13.75" W x 2.5" H (expands to 23.25" W)
Expandable
Highly configurable
No non-slip bottom
Dividers may occasionally become dislodged
4. Peggy Kitchen Cupboard Shelf and Drawer Organizer
This customized peg board system is another wonderful alternative for deep drawers, and an kitchen drawer dividers, since it enables you to keep dishes or pans upright rather than piled. The pegs are detachable and may be arranged according to your storage requirements. The organizer is equipped with non-slip feet, 16 adjustable pegs, and two adjustable ends, allowing the trays to fit snugly inside a drawer. This can also be used as an fridge organization drawer as it is easy and looks good too.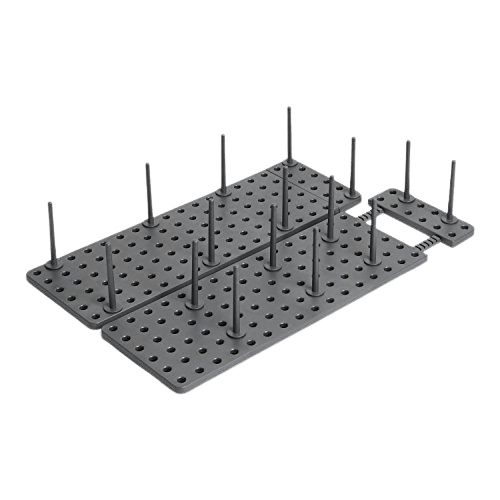 Features
Brand: UMBRA
Material Plastic
Dimensions 21.38″ W x 11.88″ D x 4″ H
Permits storage of plates on their sides
Non-slip feet
Taller than shallow drawers.
How We Choose the Finest Kitchen Drawer Organizers
These recommendations come from specialists who have tried and tested them over the years and evaluated their distinctive features, material, size, non-slip bottoms, use, and cleanability. Some selections are based on our most recent Cleaning and Organizing Awards, and we also considered organizers with outstanding user feedback.
What to search for when purchasing the most effective kitchen drawer organizers?
Size
Even the greatest drawer organizer is useless if it does not fit into the drawer. Take precise measurements of the inside dimensions of the drawer and carry them with you while shopping. Consider bringing a tiny tape measure when shopping in person to double-check measurements.
Design
Do you want something that fits directly into your drawer or a collection of smaller containers that can be arranged to create a bigger storage system? One-piece organizers may be preferable for standard-sized drawers and easily organized goods, such as flatware. Customization is especially useful for tiny, enormous, or oddly-shaped drawers, as well as for arranging specialized culinary tools, such as wine stoppers and cooking thermometers.
Material
Plastic is often simple to clean and frequently includes non-slip material at the bottom to prevent sliding in the drawer. Some organizers also include non-slip material inside the organizer so that your belongings do not move about in their sections. Wood and bamboo are often more fashionable and just need occasional wiping down or washing with soap and water. Just be careful to dry completely.
Frequently Asked Questions
How do you decide where to put things in kitchen cabinets?
Divide your options into the space you have and calculate all the things you want to put where. You can divide the options into spices, knives, cutleries, and so on.
How often should I clean kitchen drawers?
 You should wipe off the grease, and clean off residue regularly, but clean the drawers in 3 to 5 weeks. 
How do I organize kitchen drawers for pots?
Add bars or thin pieces of plywood to your pots and pans drawer that are big enough to hold your cookware and lids upright.
End Verdict
The easiest method to begin organizing is to remove all the objects you want to arrange and classify them by kind or purpose. For instance, you may store all the silverware together or keep frequently-used items adjacent to where they are used (e.g., stirring utensils and spatulas near the stove).